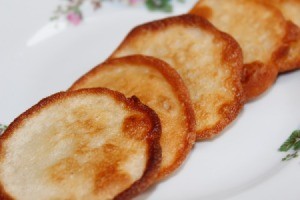 Ingredients
2 lb. sweet potatoes, scrubbed
3 large eggs
3 Tbsp. flour
1 Tbsp. honey
2 tsp. dried sage leaves
1 tsp. salt
1/4 tsp. freshly ground black pepper
1/4 tsp. ground cinnamon
3 Tbsp. butter or margarine, or as needed
Fresh sage sprigs (opt.)
Directions
In 3 qt. saucepan over high heat, bring potatoes and enough water to cover to boil. Reduce heat to low; simmer, covered, 30 minutes until potatoes are tender. Drain. When cool enough to handle, peel potatoes; place in large bowl; using potato masher or wooden spoon, mash well. Stir eggs, flour, honey, dried sage, salt, pepper and cinnamon into potatoes to blend well. In 12 inch skillet over medium high heat, melt 1 Tbsp. butter. Drop potato mixture by heaping tablespoonfuls into hot skillet; using back of spoon, flatten each into 3 inch round about 1/4 inch thick. Cook about 3 minutes on each side until lightly browned, turning carefully. Remove pancakes to platter; keep warm. Repeat procedure with remaining mixture, adding butter to skillet as needed. Garnish with fresh sage sprigs to serve, if desired. Makes 8 servings.
By Robin from Washington, IA
August 16, 2010
0

found this helpful
If you are like me. I am always looking for a good way to use leftovers. I hate to throw them out. My grand babies think they are getting pancakes for supper.
Ingredients:
Leftover mashed potatoes (pintos may be used also)
enough flour to make them stick together
vegetable oil
Directions:
Take and mix ingredients together. Form a ball and place in hot oil. Take and flatten into pancake. Brown on both sides. Add ketchup, not syrup. Very easy to make and you don't feel guilty throwing away food.
By jazalay from Frisco, TX
Answers:
Potato Pancakes
I've made these for years but I add finely diced onions and an egg to them and fry them is Canola oil to make them crunchy :) (09/14/2009)

By Coco130
Potato Pancakes
I always make potato pancakes out of left over mashed potatoes. I scramble an egg and mix it with the potatoes and add a little garlic powder. I use a big spoon to just spoon it onto hot olive oil. Yum! (09/15/2009)

By Honey's mom
July 21, 2009
0

found this helpful
Ingredients
6 medium potatoes
3 eggs
6 Tbsp. flour
1/2 onion, grated
salt and pepper, to taste
dash garlic
oil
butter
Directions
Grate potatoes, and add the eggs, flour, onion, salt, pepper and garlic. In skillet, heat oil and butter until hot. Shape mixture into patties and fry in the hot oil.
By Robin from Washington, IA
Answers:
Potato Pancakes
Does it matter if you use white or red potatoes? Thanks (06/12/2009)

By Sandi1128
Potato Pancakes
When I was growing up mom made those but she used left over mashed potatoes and all of the other same ingredients. They probably looked a little different but they sure was good! (06/12/2009)
By notwrong
July 21, 2009
0

found this helpful
When making them, instead of putting flour, into the potato mixture, put in potato flakes, from Hungry Jack or any instant potato product.

Hope this works well for you.

By Jo-Ann
July 21, 2009
0

found this helpful
Does anyone have a recipe for mashed potato pancakes? My mother made the best ones on the planet but she passed away before I could get the recipe. All I remember is that she put in an egg, salt and pepper. I tried adding flour but then the pancakes tasted like flour. She was from England, in case that makes a difference.

Michigandertroll from Port Huron, Michigan
Answers:
Looking For Potato Pancake Recipe
When I make mine I make sure the mashed potatoes are cold. I add one egg(beaten), salt, pepper and onion powder to taste. Then I lightly flour each pancake before putting in the pan. It can be messy if the taters aren't cold. Good Luck. (06/06/2008)

By Ellie
Looking For Potato Pancake Recipe
Hello I have never made them but watched my mother in law make hers which were really good. All she did was grate the potatoes with a special grater, add salt and pepper to taste and then form them and fry them immediately. If you let them sit after you form each one while you grate more they will turn brown and taste nasty, so it's best to fry them right away till they are a golden brown. Let them sit on layers of towel paper to drain any excess oil. I hope that helps you and enjoy! (06/10/2008)

By candleglows
Looking For Potato Pancake Recipe
I use 2 cups of mashed potatoes that are all ready seasoned, 1 egg, grated onion, 1/2 teaspoon of baking powder. Mix and pat into cakes, dip into flour and fry in a little oil (I use bacon grease, I know not the best thing but they do taste good). (06/10/2008)

By scott E.
Looking For Potato Pancake Recipe
I have a recipe that a German lady gave to me. It's easy. Grate a raw potato. Add finely chopped onion. Eggs to bind with, a little flour add salt and pepper. Mix it all together drop by the spoon into a greased pan and fry it turning it over to do other side.

You have to judge this as to how much it will make, as it depends on the size of the potatoes. I serve mine with fried eggs and ketchup. Hope you enjoy them. (07/02/2008)

By Margaret, TX