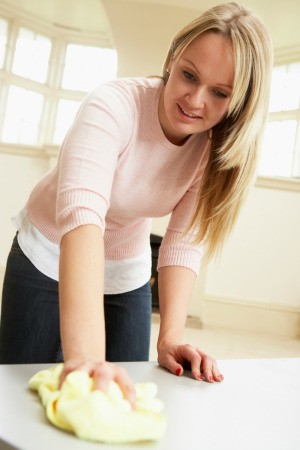 The house I rent has poor ventilation, with windows painted shut and permanently stuck. We seem to fight a neverending battle with dust. There are hardwood floors in part of the house and carpet in a couple of rooms. Any suggestions for the best way to clean and then keep dust down without using lots of chemicals ? Thanks!
frazzledmom in ATL
Answers
By Tawnda (Guest Post)
August 3, 2004
0

found this helpful
I used to be a landlord of a fourplex and in most states it is illegal to have windows painted shut, nailed shut, etc. ESPECIALLY A RENTAL.
You can probably request that your landlord fix them. If you are low income (Some states you don't even have to be low income. They go on your landlords ability to fix them), most states also have an energy efficiency program and will come and inspect the home and remove and replace all the windows at no cost to you or your landlord. You could call the electric or gas company and ask if they know of such a program in your area and how it works in our state is you fill out the application and have the landlord sign it to approve the work and maybe they will be more willing to get it done if you do that part of the footwork for them.

August 11, 2004
0

found this helpful
In the meantime, wet a old rag and wring it out well and use it for dusting. The wet keeps the dust from flying and you can rinse the rag out in water when it gets dirty from dust.

Jo Bodey
Bronze Feedback Medal for All Time! 104 Feedbacks
August 12, 2004
0

found this helpful
I don't understand this question. What is the relevance of the painted shut windows/poor ventilation to the dust? Where is the dust coming from? If the windows all opened the dust wouldn't just 'blow away' - in fact you may get more dust entering! If you are tired of dusting ask yourself if you have too much stuff. Clear your flat surfaces of all the little knicknacks and things that shouldn't be there - declutter. One or two decorative pieces are easy to just lift up and dust around. Have a routine to dust - e.g. a quick whip round once a day, twice a week, weekly - whatever suits you.
And I do mean a quick dust - I can dust my house in under 5 minutes by moving fast with a damp cloth and not getting sidetracked. The idea is to dust regularly and then it never gets a chance to accumulate to the stage where you can see it! Ostrich feather dusters are supposed to be good - they get a static charge and pick up and hold the dust well until you shake it out.
Permanently shut windows in an apartment sounds like a real fire hazard. Have a walk through the apartment and work out escape routes in case of fire in any area of the apartment.
Happy dusting!
Jo
By shante (Guest Post)
August 30, 2008
0

found this helpful
I brought a old house that has poor ventilation and the windows were not new they were also painted shut and nailed shut. The house keeps dust. I have already tried removing the nails from the windows and opening them believing that the dust will escape.
I've even used a damped rag to wipe and still no luck in removing the dust from my old house. The dust is so bad you can't breath. I have a 3year old who has asthma and a 6yr old who nose bleeds i truly need help and or advice.
Answer

this Question

My home is constantly dusty. I have an electric furnace with a heat pump. How do I keep the dust down so I don't have to dust everyday?
Answers

Hello
Bronze Post Medal for All Time! 107 Posts
February 27, 2017
0

found this helpful
If you think the furnace is tracking dirt into your home, you can try to install an air filter in the area where the vents are, or in the unit itself. I'd have to know the nature of the heater to suggest which.
Additionally, you can make sure your windows and doors are insulated properly and that you minimize gaps. STorm windows and screendoors, for example, will allow the dirt to stay outside.
Some families choose to have a no shoe in the house policy. This works particularly well for carpeted homes. We drag in unbelievable amounts of dirt with our shoes
lastly, you can water the pavement at the front and back entrance of your home, or install more plants.

Judy
Gold Post Medal for All Time! 677 Posts
February 28, 2017
0

found this helpful
Don't have heavy curtains or dust collectors like knick-knacks. This way the dust is not trapped.
Answer

this Question