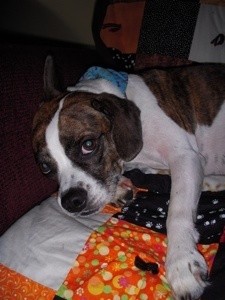 Use scraps of material to make small tied quilts. Size depends on pet, however 3x4 feet works best for most cats and small to medium sized dogs. Use fleece for the backing and quilt batting to fill.
Several positioned around the house makes perfect furniture protection. The size mentioned above is perfect to cover the seats and tuck into the sides of chairs or backs of sofa cushions. These small quilts are easy to grab and wash and very easy to train pets to use because they are so soft and familiar. Use fabric that compliments the decor.
By Marcia from Graytown, OH
January 27, 2006
0

found this helpful
I am getting new 2 new leather sofas. How can I protect them from the cats claws?

Dean Oconnor from United Kingdom
Answers
By guest (Guest Post)
January 27, 2006
0

found this helpful
www.softpaws.com
They are covers for your cat's claws. They rock!
January 27, 2006
0

found this helpful
This is why pet owners need to really think about what kind of pet or pets fit into their life. If my cat
AllieMae was alive I would not get leather due to
her claws. Of course my cat was my baby. You could
ask your vet about those claw tips things that some people have put on end of cat claws. De-clawing is
horrible as it takes the claws off and parts of the toe
and that would not be nice.
Good luck.
By guest (Guest Post)
January 28, 2006
0

found this helpful
I have microsuede and suede furniture and a bossy cat I make certain that the things she thinks she's "getting away with" (plastic bags with the ends tied, crumply newspapers, rawhide strings, are available to her near her bed, near her scratching posts, and in strange places such as in the narrow area between the door and the wall in the bathroom, before I leave. I scent her scratcher with a bit of catnip. spritz the furniture with a citrus-scented spray(HATES THAT) toss some sheets of foil on it, and leave. I can see upon my return exactly where she has been, what she has done, and that my furniture is fine. Just think like a cat!
By guest (Guest Post)
February 12, 2006
0

found this helpful
Is there any type of spray that will deter a cat from scratching at the leather furniture?
April 27, 2006
0

found this helpful
The soft tips for cats & dogs claws might be helpful...and cats hate scratching plastic...so when I had my leather sofa (I have 5 cats) I covered the outside in thick plastic and put plastic pieces on the corners...the pieces are for like the corners of walls and stuff...it is hard and they never touched the couch. I have heard that they do not like walking on foil...maybe place some (not balled up) around your sofa and they won't get near it.
August 14, 2015
0

found this helpful
Concerning the claw caps...I see that they have to be glued on. Cats often groom themselves by biting their nails. Might the glue be toxic for them? And as the nails grow out, do you then clip or have a vet snip the claws off where the caps had been? I like the idea of using HEAVY clear plastic on the leather chairs. One of my cats is especially fond of the rear of my husband's leather recliner. My dogs are getting older and have trouble holding their urine sometimes, even while they're asleep. So I bought the thickest plastic from Walmart and laid it across the bed, especially when no human is sleeping in it. Should they have an accident, nothing is ruined. Just be sure to look for wet spots from day to day, then simple put some paper towels on it to soak it up, then wipe it clean with a cleaner. Back to the cat claws on leather. Thanks for the idea. I haven't been able to figure out how to make it stay situated on the recliner. But I just had a thought...I'll buy a piece of plastic wide and long enough to cover the back of the recliner, punch a couple of holes in the top that will hang just over the top of the back, then use bungie cords to hold it in place. (Same for the bottom of the plastic) Hope it works.
August 15, 2015
0

found this helpful
I trim my cat's claws about once a week.
Answer

this Question

...