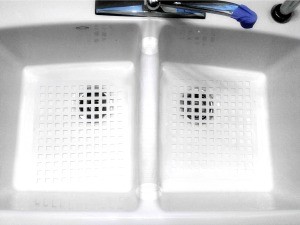 There are lots of ways to help keep your kitchen sink looking new. Here's one more.
One surefire way to keep your sink looking good is to never actually use the sink bowls, but use plastic dishpans inside the bowls, instead. A little far out maybe, but I would do this if I owned a new, nice house that I planned to put on the market in a year or two.
I cut a piece of 'rubberized' shelf liner from Dollar Tree to size and draped it over the bowl divider. It's hard to see in the picture, so I highlighted the front and back edge. It works very well at protecting the divider against pot marks, etc. Easy to replace when needed. Cost? maybe 25 cents. The divider protectors I checked out at Amazon were 10-15 dollars (Honey, it'll be a cold day).
I got mats to protect the bottom of the bowls. They too were from Dollar Tree. They are well worth the money. Pure bleach doesn't affect them and they last for years.
You may have known most of these tips. Here's the 'one more'. I always manage to hit the faucet tip with pots and pans. Luckily, I've never hit it hard enough to leave a mark.......yet. So, I made a protector for my faucet with the thumb of a latex or Nitrile glove. Just cut off the thumb. Then cut a hole in the tip. Slide the thumb onto the faucet, adjusting it so the hole is over the opening in the faucet. Works like a charm!
We tend to get a bit clumsy as we age. I do declare, the things we have to do to compensate.