Finding Best Glue for Bathtub Faucet Temperature Labels
Questions
Ask a QuestionHere are the questions asked by community members. Read on to see the answers provided by the ThriftyFun community or ask a new question.
We just remodeled our bathroom and used chrome covered brass cross-handle tub faucets with white Hot/Cold buttons that are glued to a small chrome cap that snaps onto the front of the handle. The white buttons keep coming off the cap and falling into the tub. We're on our second set in two months as the first set went down the drain two days after we finished the remodel! I've tried bathroom adhesive/caulk and Loctite Super glue (which is supposed to be water-proof), with no luck. Anyone know a fix for this?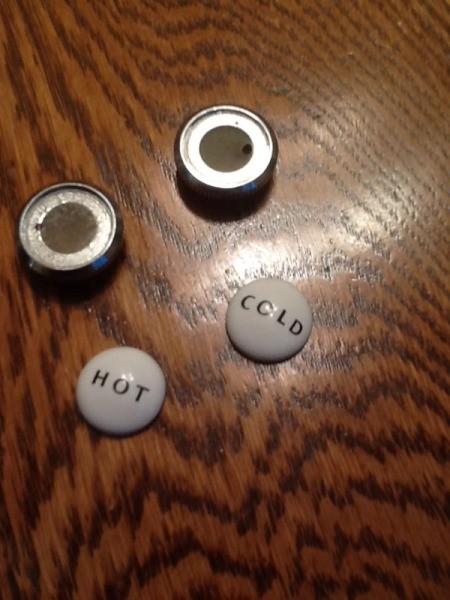 Answers
September 27, 2017
0

found this helpful
Best Answer
Please remember that any glue you use may make any necessary repairs in the future very difficult and plumbers do not recommend this type of repair. Just be sure you can still get to the screws underneath in case you have to do repairs or removal.
First: Brush the inside of the ring under the button with the toothbrush soaked in vinegar. This removes any dirt and mineral deposits from the area. Dry the handle with the cloth.
Gorilla glue is some tough stuff and if you will never have to remove the button then this is a good choice. E-6000 also falls into that group as well as Liquid Nails.
Waterproof Elmers glue may be a good choice and still be removable.
From a local plumber's site:
Plumbers putty: There are several types of index caps. Anyone who suggests liquid nails,Gorilla Glue, or silicone or any serious "adhesive" glue is ignorant of the fact that someday someone will have to remove those caps and those adhesives will require damaging the faucet to completely remove those indexing caps. If you have no need to ever remove the cap (like if there is no screw head under it) then you may use silicone or adhesive caulk if you like. If you have the one with the snap-in ring - you shouldn't use any glue or adhesive there at all - unless the ring that snaps in is broken - then see above. If your faucet starts leaking you will need to get under the index cap to possibly replace a washer or cartridge at some point in the future!
September 25, 2017
0

found this helpful
Try hot glue. You will have to remove the hot and cold caps to do repairs on the faucet in the future
September 25, 2017
1

found this helpful
I use "Gorilla"glue for any thing and every thing I need to glue.
"Gorilla" glue comes in different colors , I think you would need to use white.
It also has different drying time so be sure and read the label.
I have glued a broken flower pot that stays outside and it still holds even though it is rained on.
Good luck.
September 25, 2017
0

found this helpful
You're having trouble due to the steam workup and water. Try these and they will stick:
Read More Answers
Categories
Pages
More
Categories