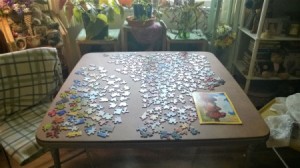 I love puzzles. But I rarely have had the room for one.
Recently, I was able to get a nice card table and four chairs for a steal! I decided to put a puzzle on the table. But I knew that the lace curtain I am using for a tablecloth would catch on it and disturb the pieces.
So, remembering that puzzle savers are basically just big pieces of heavy felt, I improvised.
With a thick flannel winter throw, I put it carefully over the puzzle and then put the lace on top of that. You can't really tell if there is anything there, and if you can, it's still attractive.
Now when I want to work on the puzzle, I just have to carefully roll the blanket back and work away. N-JOY!