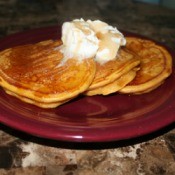 I just love pumpkin pancakes. They're so perfect for fall. I brought leftover pancakes into the office for breakfast the other day and someone tried to steal them!
Ingredients:
2 1/4 cups flour
4 tsp. baking powder
2 tsp. cinnamon
1 tsp. allspice
1 tsp. ginger
1/2 tsp. salt
1/4 cup brown sugar
2 cups milk
4 eggs separated
1/4 cup melted butter
1 cup canned pumpkin
nut butter (optional)
maple syrup
Directions:
Stir together flour, baking powder, cinnamon, allspice, ginger, salt and brown sugar.
Combine the pumpkin, milk and egg yolks. Add the flour mixture and melted butter. Stir to blend.
Beat the egg whites until they form soft peaks and fold into the batter to blend. Preheat griddle at 350 degrees F. Pour batter and cook until richly browned - about 5 minutes. Serve with Nut Butter and Syrup.
Nut Butter: Blend 1/2 cup soft butter with 1/2 cup chopped walnuts or pecans. and 1/2 tsp. grated orange peel.
Servings:
5 or more
Time:
10 Minutes Preparation Time
5 Minutes Cooking Time
Source: Family Recipe
By Stephanie from Hillsboro, OR
Ingredients
1 cup all-purpose flour
1 tsp. baking powder
1 tsp. baking soda
1 Tbsp. pumpkin pie spice
1/2 tsp. salt
2 Tbsp. sugar
1 cup buttermilk
1/2 cup canned pumpkin
2 eggs
1/2 cup canola oil
1 tsp. vanilla extract
maple syrup
Directions
In a large bowl, whisk together the flour, baking powder, baking soda, pumpkin pie spice, salt and sugar. Whisk in buttermilk, pumpkin, eggs, oil and vanilla extract; blend well. Spray a large nonstick griddle or skillet with nonstick cooking spray; heat over medium heat. Working in batches, pour batter by scant 1/3 cupfuls into skillet. Cook until bubbles form on surface of pancakes and bottoms are lightly browned, about 1-1/2 minutes per side. Repeat with remaining batter, spraying skillet with nonstick cooking spray between batches as needed. Serve with maple syrup.
By Connie from Cotter, AR
October 15, 2009
0

found this helpful
Add taste and nutrition to your plain pancakes by adding canned pumpkin. We all LOVE our pancakes this way. Just mix 1 cup of complete pancake mix with 2/3 cup water, 1/2 tsp. cinnamon (opt) and 1/3 cup pumpkin. That's it!! These are economical and easy and de-licious!! Of course, if you make homemade, you can do the same.

Sometimes we will top them with pecans or sliced bananas, or put chopped apple in.

By Carol from Landisville, PA

Answers:
Pumpkin Pancakes
What a great idea! Does anyone have any other uses for leftover canned pumpkin? My husband bought a large can for me and I only needed a small amount for a pumpkin roll that I made. Needless to say, I need ideas for using up the remaining pumpkin. Thanks! (05/13/2008)
By Maryeileen
Pumpkin Pancakes
I bet these are moist and super-tasty! As far as the left over pumpkin, you can feed a teaspoon per day to your cat to stop hairballs. I'd simply freeze the rest of the pumpkin in zip-lock bags. Just put 1/4 cup in each bag.

* OR you can add the pumpkin in place of oil or Crisco to any baked good recipe like cakes, cookies or muffins for a moist and tasty treat without added fat! (05/13/2008)

By Cyinda
Pumpkin Pancakes
My husband made these today and in addition to the cinnamon he added a bit of nutmeg. He also added a handful of chopped pecans to the batter and they were great!

Cyinda...thanks for the ideas. I wasn't sure if canned pumpkin could be frozen. Also, we have 3 cats so some of it will be used to prevent hairballs. (05/14/2008)
By Maryeileen