January 14, 2013
0

found this helpful
Best Answer
This may seem like a lot of trouble, but the answer is to crate and rotate. That is a thing with bullies, and they often need to be seperated and make sure you feed him in his crate, and not among the other dogs.
Here is some info on this, sometimes you just can't make them get along!
Humans don't always get along either! It is not the end of the world!
Blessings,
Robyn

January 15, 2013
0

found this helpful
Best Answer
If this dog is already showing agressive, and you cannot get his jaw open. Something to think about, what if he got out and bit a child in the face and won't let go. Is it fair for your other well behaved dogs have to suffer do to this dog? The breed doesn't normally behave like this. This is going to be a sad story. This dog needs to be in an only dog home. If he is an only dog, the jealous behavor will stop. He can be turned into a nice dog.
February 23, 2013
0

found this helpful
Best Answer
I may may not know much about dogs or pit/lab mixed dogs but at least I know I would never give her up! People are so quick to just to get rid of a pit/lab without having training knowledge. Please dont get rid of him/her.
All they need is a loving home and patience. People aren't perfect at all, but we don't just toss each other out, or give up for adoption. Poor doggies, if only they could have words to describe how they feel : (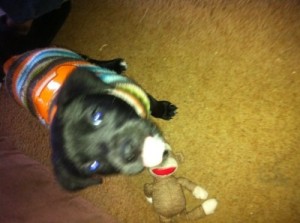 January 14, 2013
0

found this helpful
I would never get my hands in the teeth of any dog that is biting. Puppies often get that lockjaw thing, it is in their blood when they are pits, it is kind of like a stubborn streak.
When a pup has this other dog in his mouth, if I felt safe, I would grab, gently, the back feet only and gently pull him off the other pup very slowly.
Bullies seem to get hyper. I like to scruff and shake a little bit, this is not rough, but really not comfortable. The doggie will think he is in trouble. There is no yelling, just a grab of the scruff and a small shake. You are not lifting the dog off the ground to shake but you are shaking a little bit to get his attention. Be ready to give him a toy.
In the meantime, it is better to get them used to crate and rotate.
There are many youtube.com videos on crate training, mainly make the crate the place where lots of treats get thrown in, and a wonderful place.

Blessings,

Robyn

May 9, 2013
0

found this helpful
Contrary to popular belief pitbulls do not have a locking jaw. And they also do not have a very large bite pressure. Matter-of-fact, they don't even have the largest bite pressure of all domestic dogs, that belongs to the to Rottys!
You just need to replace what they are biting with a chew toy or a bone, you puppy is still teething so he will need something to chew on.
January 11, 2016
0

found this helpful
I would just tell the puppy no bite and also have a toy he can bite and stick that in his or her mouth and tell them to bite the toy, it may take a few times but they will catch on to it. This is good for any kind of dog whether its another dog or trying to bite you or anyone this is while they are puppies and they like to chew everything.

February 20, 2018
0

found this helpful
'Wow, how familiar this is! We have a 9 yr old boxer female. Well behaved, and dominant. We got an 8 wk old female boxer/pit bull mix. She is now 5 months old. She bites much more than the first one did, and she bites the older dogs mouth like that. She also bites the tender part of her leg. We bought a vibrate/shock collar that has worked wonders. We tried it on our own arms and keep it set just high enough to startle, not hurt. It's a great training tool.