February 19, 2011
0

found this helpful
It is normal, that's what puppies do, but it is easily stopped. The next time your puppy goes to bite, put your hand in his mouth and grab his lower jaw firmly and then firmly say "No bite". Do this everytime and he will learn and stop. He will not be able to bite with your hand holding him like this and it doesn't hurt him. This worked with our American Bulldog puppy, hope this helps.
February 19, 2011
0

found this helpful
Buffalowgal has good advice. I hope this cures your pup!
I had an experience with my 8 wk old Dane that was different, though.
On reflection I think this is what I did wrong with him:
Being so darned cute, I just could not help but fall for this little 20 lb guy. Morning one with us he started to cry a bit. I grabbed a throw for myself to snuggle on the couch to watch early news. I picked him up and placed him on my tummy. He stared at me, but then went to sleep. Lovely, huh?
2nd morning: He started that pitiful cry, so I grabbed the throw, etc. I picked him up, put him on my tummy, I got the stare. THEN.....he just started biting the %$#& outta me!
This started an approx 6 month behavior that was just awful. My husband would come in from work to find me crying and bloody. I was SO frustrated. I had four Danes before him and they were so mellow and great and now I had a MONSTER on my hands.
WHAT I DID WRONG: I elevated this intact male pup off the floor and then placed him to where he looked down on me. This gives them the msg that they are superior and he was acting on that. He saw me as a weak pup.
NEVER treat a pup like they are a baby! They need to know where they stand from day one and as they grow and learn then they can be rewarded.
Outdoors he would see me in the yard and run past me grabbing an arm: more injury. But, remember that pups will do that to each other as they make their way to the top of the pack.
It took a LOT of patience and training (not to mention neosporin and bandaids), but I am stubborn and knew that he was a good dog, behind all those big teeth.
Today he is 2 1/2 years and is 165#. I am 120#. He only sees me as a pup as far as protecting me, but I could NOT ask for a better dog, he's marvelous! Now I tell him "let's go watch tv on the couch" and he ambles towards the family room, but waits to get the signal if he can sit with me or sit at my feet.
I hope the "don't bite" maneuver works for you. Good luck with your cutie. Let us know what happens!
February 21, 2011
0

found this helpful
I only have one thing to add to all the other bits of advice. Do not think that I have any grudge against Pitbulls, in fact, I love them. The actual findings, according to people like the ones who have handled them (a lot) is that the blue nose pits are always the ones in demand as fighters, and are usually the ones that do get in trouble as adults, for attacks. I think I heard the lady who runs Villa Lobos and has the tv program pit bulls and parolees, was one who mentioned that. Again, I love pits, but do watch, and if the best attempts at training are not successful within a reasonable time, and you have children around, at any time, please be cautious. We dont want more media vilifying such awesome dogs.
February 21, 2011
0

found this helpful
Thanks everyone for great advice diesel is doing better thanks for all the advice :) And to LGF I just started watching that show about the pitbull and the parolees its great its on animal planet!
March 1, 2011
0

found this helpful
I'm with buffalowgal!
I've raised several puppies of all breeds, including pits, over the years and I have always been persistent and consistent with my discipline when it comes to puppies and biting (this will also help when training not to chew certain things in the near future).
I grab either top or bottom jaw and squeeze firmly w/ a voice command. If this hasn't helped within a week or so I will add to that grab by taking the lip and press it on their very sharp teeth. Yes, it does hurt a bit, but you don't need to pinch so hard she bleeds! Also, if we're playing and puppy bites too hard, I yelp. I yelp louder than it actually hurt. The pup understands that communication b/c that's exactly what another dog would do.
It sounds like this pup may be a natural alpha. If so, it is IMPERATIVE that you learn about dog psychology. YOU, not the dog, are the ALPHA. You and any other members of the family need to treat him like the Omega. For a dog with this kind of personality, it is so much more important to do this from a very small age.
EXERCISE then DISCIPLINE and then and only then AFFECTION. We need to remember one very simple truth: Dogs are not humans. Now matter how much we want them to be they do not see the world and express themselves in the same way that we do. Not understanding how a dog thinks is detrimental to the dog.
Make sure he has plenty of safe, chewable things (I buy rawhide from Sam's Club - all natural, no flavoring and long lasting).
Lastly, I would defiantly invest in a large kennel (wire or plastic). For now, he NEEDS to be kept in a place where he cannot chew anything he's not supposed to. It's not fair to get angry w/ a puppy who does not know yet what is ok and not ok in the household... and it is definitely not fair to get angry when the human doesn't put the puppy in a kennel to prevent any accidents. Eventually you will be able to let him in the house alone, but the ONLY way to train him whats ok and not ok is to catch him doing it. So, when you are home make sure you keep a close eye on the little guy so you can 'catch him in the act'.
If you dedicate yourself crate training him, and to walking him properly every day and taking him to the dog park to run, play and socialize, then you will end up with a beautiful pit that will make you proud!
Good luck and I recommend to watch the Dog Whisperer on The National Geographic Channel!
EXERCISE - DISCIPLINE - AFFECTION (in that order!)
**Kudos to all of the ppl out there that have a shelter pet!!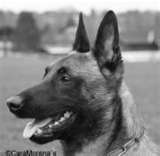 April 21, 2011
0

found this helpful
It is still a puppy and the way that I broke my stafford shire (pitbull) of biting is a firm tone just like you would a child. There is no need to physically discipline the animal. They are great companions and are loyal animals. I would suggest getting tennis balls and other chew toys for it to chew on. It is a teething thing just like with a child when they are teething they want to chew on anything to make their gums feel better.
When the animal gets older then you will have to mount it to show dominance. I would suggest getting it fixed unless you plan on breeding and if you plan on doing that I would strongly suggest doing a lot of research on them. If you have any questions please don't hesitate to ask.
I have been breeding and raising these docile animals for about 15 years. here is a helpful site to get some more information. I hope that it helps.
August 2, 2013
1

found this helpful
I never punish my 8 week old pit for biting! Getting angry or punishing her just makes her more aggressive. I do discipline by saying "No bite!" or "Be nice!" If she doesn't stop biting and start licking me, then the next time she bites me I say "OW!" Really loud in a deep firm voice. I try not to use a high pitched voice because that just excites her more.
When I say OW I act hurt and sad, and I ignore her completely. If she still bites then I say OW again and leave the room completely until she is calm again. She learns that my presence is a privilege and that she needs to be nice to me.
I am consistent with this behavior every single time she bites so I am hopeful she won't be a biter in the future. I got this advice from the book Good Dog 101 by Christine Dahl and so far it works great! I hope it works for you as well!
September 22, 2016
0

found this helpful
This is a perfect technique. Say ow and ignore and dog will learn. Very smart. And give all pits a chance.
December 18, 2016
0

found this helpful
When my dog starts to play too rough I have taught her to calm down when I say owe or enough. This has worked for me. I am currently teaching her new friend the same technique when they are playing together. Her new friend is a pit mix and likes to go for her face he doesn't bit just goes open jaw. I am stopping this behavior before it escalates.
July 21, 2016
0

found this helpful
I know this will sound cruel and only if nothing else works like with replacing it with stuffed animals and bones by 4 to 6 months stick your fingers or thumb down its throat to get a little gag you're not trying to hurt them and it will stop the biting say no every time you do it and only as a last resort also there is no such thing as a blue nose pitbull there are red nose however but they are the old family Lines from Ireland and are very rare the Pitbull lines today are muddled with inbreeding you can't still have ever get a very nice American Pit Bull Terrier and if you train them right