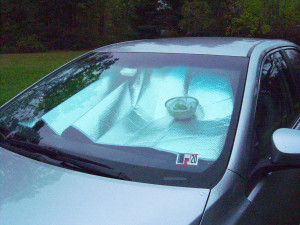 My car sits in an open sunny spot and frequently is quite warm when I go to use it. Since I had lots of basil to dry, I thought I'd try to dry it in the car and it worked perfectly!
I washed it and left it in a strainer (or your could use a colander) which I placed in front of my reflective window shade in the car. By the end of the half day I left it out there, it was crispy dry and ready to store away! Great quick way to dry herbs/leaves.
Cheaper than using my electric dehydrator or oven, better then waiting forever hanging it in attic (and no worries about dust, dirt, bugs, etc) and so less work for me too. A Solar Solution!
The reflective shade really helped, I think. You could do it without but it may take a little longer.