Quinoa is a great source of protein and fiber. These quinoa burgers are a great alternative to meat. They taste great and are healthy for you.
Ingredients:
2 cups cooked quinoa (instructions below)
3/4 cup shredded cheddar cheese
1/2 cup low-fat cottage cheese
1 medium carrot, finely grated
3 eggs
3 Tbsp. all purpose flour
2 green onions, chopped
1/2 tsp. sugar
1/4 tsp. black pepper
1/4 tsp. ground cumin
1/8 tsp. salt
1/8 tsp. garlic powder
olive oil for frying
Optional Toppings:
sour cream
Cajun seasoning
ketchup
Directions:
Cooking Quinoa: Bring 2 cups of water and 1/2 tsp. salt to a boil. Add 1 cup quinoa and reduce heat to low. Cover and cook for 18-20 minutes, or until quinoa is tender and water is absorbed. Gently fluff with fork and cool for a few minutes.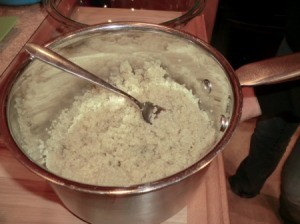 Preparing Burgers: Combine all ingredients in a large bowl. Heat a few tsp. of olive oil in a large skillet over medium-low heat.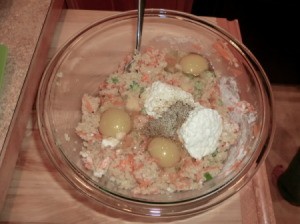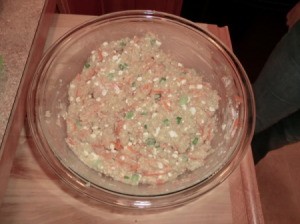 Using a 1/4 cup measuring cup, drop mixture into the pan and use a fork to flatten into "patties" (approx. 1/2 inch thick). Fry burgers until golden brown, cooking for approx. 4 minutes on each side.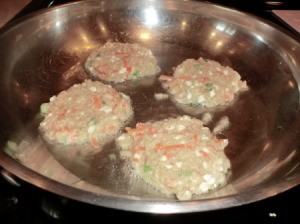 Source: http://eatingwelllivingthin.wordpress.com
By lalala... from Port Orchard, WA