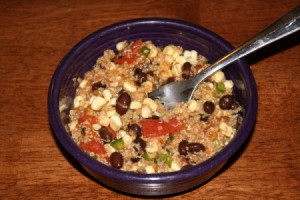 I threw this together for a quick summer salad this week. My husband loved it so much that he said he would eat it for breakfast, lunch, and dinner. Quinoa is so versatile and a great substitute for pasta or rice.
Ingredients:
1 cup quinoa
2 cups chicken broth (or other liquid*)
1 can (15 oz.) diced tomatoes
1 can (15 oz.) corn kernels
1 can (15 oz.) black beans, rinsed
1 bunch (4-6) green onions, chopped
2 cloves garlic, minced
1 jalapeno, finely chopped (include seeds for heat)
spices to taste (I used about a Tbsp. of cumin, oregano, cayenne pepper and black pepper)
*I had a small amount of leftover salsa which I added to the quinoa cooking liquid. You could use any broth, tomato juice or just water, depending on your personal taste.
Directions:
Combine quinoa and 2 cups liquid in a small saucepan. Bring to a boil, then cover and reduce heat. Simmer for 15 minutes. The quinoa should be chewy and have tiny white circles around each piece. Let sit a few minutes to cool and absorb a bit more liquid.
While the quinoa is cooking, open your cans and chop the vegetables. Place them in a large bowl. Add the slightly cooled quinoa and spices and mix together. You can serve it immediately or cool in the refrigerator and serve later. The flavors will continue to develop and it will be even better the next day.
Notes: If you have access to dried and soaked beans, fresh tomatoes or fresh/frozen corn, these would work equally well. You would want about 2 cups of each.
You could also substitute chunky salsa for the tomatoes and spices, if you want a quicker salad. Red or green peppers could be used instead of the jalapeno, if you don't like it to be so spicy.
I didn't have any fresh cilantro, but it would have been wonderful. I will add it in the next time I make it. Feel free to modify this simple recipe to suit your family's own tastes.
Source: I probably got the idea from Weight Watchers but the recipe is mine.
By Jess from Hillsboro, OR