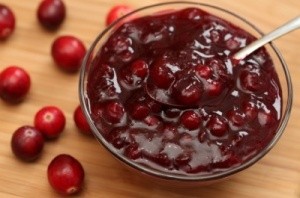 You can use canned cranberry sauce for the following ideas but I make my own and it works just as well. I absolutely love cranberries so I've naturally done all the ideas listed.
Soak raisins and chopped dried apricots in rum or brandy for half an hour. Add to cranberry sauce. Heat and drizzle over ice cream or frozen yogurt.
Season sauce with Worcestershire, chopped garlic, and basil or sage. Great over pork or turkey burgers.
Top a cocktail bread square or large, thick cracker with a slice of sharp cheddar. Spoon on a little cranberry sauce mixed with sliced green onion.
Stir cranberry sauce with chutney to give an added layer of flavor. Sprinkle with chopped cilantro. Serve with pork.
Finely chop candied ginger and stir into sauce. Spoon atop a big wedge of warm brie.
Partially fill frozen mini-tart shells with crumbed blue cheese or a flavorful grated cheese. Bake as directed. Top with sauce. Sprinkle with chopped fresh mint or parsley, if desired.
Mix in generous pinches of cinnamon, nutmeg and allspice to the sauce. Fill the centers of cored pear or apple halves and bake for about a half-hour at 350 degrees F.
Simmer sauce with a little curry paste. Excellent as a dipping sauce for kebabs.
Stir coarsely chopped clementines and finely chopped apple or pear into sauce. Does wonders for rotisserie chicken or pork chops.
Add dashes of Tabasco and a few drizzles of balsamic vinegar. Heat frozen meatballs and coat with sauce.
Source: Chatelaine magazine
By sooz from Toronto, ON
Editor's Note: What other uses have you found for cranberries and cranberry sauce besides turkey? Post them here!
Read More Comments
I tried it the other day when I needed some cranberry juice, so, I tried it in the blender with one can of cranberry sauce and 3 cups of water, and it tasted great, it had a foam at the beginning, but, overnight, the foam was gone. The juice is still good tasting and clear.
Anyway, if the cost is good, try making a quart of cranberry juice. It has mostly only cranberries in there, and some corn syrup, so, some may not want that, but, in a pinch, and the price wasn't too bad, give it a try.
Source: I just thought I'd try it, and it does work well.
By Kathryn Visser from Rockford, MI
Read More Comments
I am the food manager of a homeless shelter. I have a lot of jellied cranberry sauce, and bran flake like cereal. I am looking to combine the 2 to make cookies, muffins, bars, etc. I am feeding 60-80 people 3 meals per day.
Any ideas or recipes?
Answers
August 20, 2018
0

found this helpful
As the food manager of a homeless shelter you probably frequently rely on your creativity to create meals with ingredients you have on hand. I admire you for your frugality. The combination of jellied cranberry sauce and bran flake cereal seems a bit challenging. I haven't actually prepared this recipe using bran flakes, but I'm thinking you might be able to use a recipe such as www.allrecipes.com/.../ and use crushed bran flakes instead of rolled oats.
August 20, 2018
0

found this helpful
Google Tightwad Gazette Universal Muffin Recipe . She gives you the right proportions of ingredients and you can mix and match
August 21, 2018
1

found this helpful
G-d bless you for your work!!
I know you are asking for things to do with both together, but there are some super easy ways to use them separate that may give your guests extra special treats...and give you super easy to dos...
I love leftover cranberry sauce and there are tons of things you can do with it alone...try this link for some neat ideas:
This site has some great things to do with cereals www.bhg.com/.../
Putting it on a grilled cheese sandwich is one of the best choices!! It is really special and fancy, but inexpensive, filling and TASTY!!!
My all time favorite and what my frugal mom did was use it as coating for chicken!! Better than bread crumbs any day!! She even used to save all the bottoms of the package (the crumbs) and would mix them together to make crumb coating. We never had sugar cereals...all healthy kinds from back in the day...so it was never an issue...I obviously wouldn't do this with Trix or one of those icky sweet cereals...but bran flakes--YUM!!
Good luck!! Wishing you all the best! Prayers for your mission!!!
August 21, 2018
0

found this helpful
The it here refers to spreading the cranberry sauce like a condiment on grilled cheese! Sorry for the confusion!!!
August 22, 2018
0

found this helpful
Uses for canned jellied cranberry sauce can be a challenge as it is smooth and does not fit the bill for most recipes - even Ocean Spray has only a few and the ones shown are for fancy foods.
It does appear you could adapt this recipe to use both items but then you may not want to make this over and over.
Canned jellied cranberry sauce can always be used as a garnish or sauce with chicken, pork, turkey and some say it can be added to a sandwich.
You may have to medium crush the bran flakes and use as filler in casseroles along with a dressing mix. You may be able to use some with hamburger or sausage mix.
Answer

this Question

...
I need (quickly) recipes to help use up some leftover cranberry sauce. I was to take 3 cans worth to a church dinner. I had some left over, and so did another lady who then put hers into my bowl. I hate to waste it, but my family won't eat it. Any ideas what I can do with it so that they will eat it?

April from Northwest MO

Answers:
Recipes Using Canned Cranberry Sauce
Put Tip or Request Here

Answers:
Recipes Using Canned Cranberry Sauce
4 boneless chicken breasts
8 oz. Catalina dressing
1 package of dry onion soup mix
one 1lb. can whole cranberry sauce
Mix together dressing, onion mix, and cranberry sauce. Freeze chicken and mixture in bag.
On serving day, thaw completely, place chicken mixture in greased baking pan and bake at 350 degrees for 1 to 1 1/2 hours uncovered. (11/30/2006)

By Sharon

Recipes Using Canned Cranberry Sauce
Here's a cranberry sauce recipe I found and tried the other day. Yum. I used it with some black raspberry jam I had made. It would work with any thick fruit spread.

Cranberry Sauce Bars
1 cup flour
1 cup oatmeal
2/3 cup brown sugar
1/2 teaspoon baking powder
1/2 cup butter, melted
1 cup whole cranberry sauce, drained
Preheat oven to 350 degrees. In a large bowl, combine the first 5 ingredients: flour, oatmeal, brown sugar, baking powder, and melted butter, until crumbly (large crumbs). Reserve 1 cup of the crumb mixture. Press the remainder into an ungreased 8 or 9 inch square pan. Spoon and spread the cranberry sauce over the crumb mixture. Sprinkle with the reserved crumbs and gently pat.

Bake at 350 degrees for 20-30 minutes or until golden brown. Cool and cut in bars. (Store in the refrigerator.)

Makes 16-24 bars.

NOTE: Recipe may be doubled and mincemeat may substitute for the cranberry sauce.
(11/30/2006)

By Cindy Bailey
Recipes Using Canned Cranberry Sauce
Measure the amount of cranberry sauce that you have if it is not a full can. Combine with an equal amount of ketchup or spaghetti sauce or barbecue sauce, and heat over low heat until combined. Use as a sauce over pork or chicken. You can also heat sliced sausage or hot dogs in it and serve over rice. (12/01/2006)

By Jean
Recipes Using Canned Cranberry Sauce
SWEET SOUR MEAT BALLS
2 lbs ground beef
1 cup bread crumbs
1 envelope onion soup mix
3 eggs
Mix all together to form 36 meat balls. Place meat balls in 9X13 pan, or appropriate casserole.
Mix following ingredients to form sauce to pour over meatballs.
1/2 cup brown sugar
1 can sauerkraut
1 can whole cranberry sauce
1 jar chili sauce
1 jar water-using chili sauce jar
Bake at 325 for about 2 hours. Less time for glass dish.

CRANBERRY SALAD
1 can whole cranberry sauce
1 can pineapple tidbits (reserve juice)
2 small package cherry Jello
1 cup pineapple juice (add water to make 1 cup)
1 cup boiling water
1 cup finely chopped celery
1/2 cup chopped nuts (if desired)
Dissolve Jello in boiling water. Add pineapple juice, then cranberries, stir til dissolved. Let set some, then add rest of ingredients. Can put in a mold or bowl.
Mary from Lake Geneva, WI (12/01/2006)

By Wisgal
Recipes Using Canned Cranberry Sauce
Cranberry Stuffing
This is great side dish with pork.

Chop 1 large stalk of celery, 1 medium apple, and 1 medium onion. Saute in 1 Tbsp of butter until tender. Add to 3 cups of bread cubes and 1 tsp of savory leaves.

Combine 1/2 cup of whole berry cranberry sauce with 2 Tbsp of brown sugar, 1 Tbsp of frozen orange juice concentrate and a sprinkle of fresh ground pepper. Heat in a small pan until sugar is dissolved. Add to bread mixture and mix well. Bake in a greased casserole dish at 375 degrees for 20 to 30 minutes uncovered. (12/02/2006)

By Donna
Recipes Using Canned Cranberry Sauce
I've fried a few chicken breasts in a butter/oil mixture, then remove them from the pan once cooked. Add a tablespoon or two of cranberry sauce to the juices, and stir with a wooden spoon until melted. Pour over the chicken breasts and serve with whatever sides you like, although vegetables such as corn go very well with this dish. (12/13/2006)

By Cathy
Recipes Using Canned Cranberry Sauce
EZ Cool Cranberry Salad
1 (20 oz. can) crushed pineapple (drained)
1 (16 oz. can) whole berry cranberry sauce
1/4 cup chopped pecans
1 cup sour cream
1/4 cup Splenda (to taste)
Mix thoroughly. Spoon into muffin cups. Freeze at least 3 hours or until firm. Remove from freezer 30 minutes before serving and place in refrigerator. Or leave in a serving bowl. Serves 6-8.

(I received compliments when I took this to a ladies' luncheon). Very good.
(07/25/2007)

By badwater
(12/04/2007)

By lalala...
Recipes Using Canned Cranberry Sauce
Cranberry Jello
1 package any kind red Jello
1/2 cup walnuts, chopped
1 can cranberry sauce
1 apple, diced
3/4 cup Pineapple juice
First dissolve the Jello in hot water as the directions state. Then instead of adding cold water, you add the pineapple juice. Then add the cranberry sauce and mix well. Finally add the apples and walnuts. Chill. As is starts to firm, you may want to stir it a little so the apples and walnuts don't collect at the bottom. My family hates cranberry sauce, but they can't get enough of this cranberry jello. (12/04/2007)

By Amyrojo5903
Recipes Using Canned Cranberry Sauce
You might find something you like here...
(12/04/2007)

By Marta
Recipes Using Canned Cranberry Sauce
Cranberry Cream
1 cup jellied cranberry sauce, cut into chunks
1 small can evaporated milk
1/4 cup sugar
2 cups vanilla ice cream, slightly softened
1/2 cup chopped pecans
Put all ingredients, except pecans, in a blender. Process on "high" until all is blended. Pour into a mixing bowl and mix in pecans. Pour into individual or 1 large gelatin mold (or any other freezer safe container). Cover with plastic wrap and freeze overnight. To serve: let sit at room temperature 10 minutes. Invert over a plate. If it doesn't come out dip the mold up to the rim in hot water.

This tastes like strawberry ice cream.
(12/04/2007)

By joan pecsek
Recipes Using Canned Cranberry Sauce
You can mix it with Heinz Chili Sauce and make sweet and sour meatballs (heat up some frozen meatballs in this mixture). Not sure of amounts, but it was in a recent magazine and I'm sure it can be found on either the Heinz website or Ocean Spray's website. (12/06/2007)

By Laurie
Recipes Using Canned Cranberry Sauce
Make Cranberry Bliss: This is my own recipe, we had a similar incident. Take the cranberry sauce and whirl it in the blender. Take a package of cream cheese and cream it, mix in the cranberries. Add 1-2 cups whipped topping. Put it into a nice clear bowl. Top it with walnut halves in a nice circular pattern. My family had this for dessert all this week and didn't tire of it.
(12/06/2007)

By Laura
Recipes Using Canned Cranberry Sauce
I had one can of apple pie filling and needed something to extend it to fit a 9 inch pie shell. All I had was a can of jellied cranberry sauce, so I mashed it with a potato masher, added it to the apple pie filling, mixed well, poured into the pie shell, topped it with the other pie shell, put it in the oven, and baked it as recommended for baking apple pies. Turned out delicious. We liked it better than plain apple pies. (12/06/2007)

By Sallie