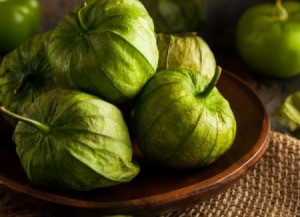 Ingredients
3 pounds chicken drumsticks and thighs, skin removed
3 cups canned reduced-sodium chicken broth
6 dried guajillo chilies, seeded
6 tomatillos, husks removed, washed and chopped
1 onion, chopped
5 cloves garlic, peeled
2 tsp ground cumin
3 cups water
4 chayotes, peeled and chopped
3/4 pound green beans, trimmed
Directions
Place chicken and broth in a large pot. Bring to a boil over high heat. Reduce heat to medium-low. Simmer, uncovered, for 30 minutes. In a large pan, cook chilies over low heat, turning frequently, until they change color and become fragrant. Stir in tomatillos, onion, garlic, cumin and 1 cup water. Bring to a boil over high heat. Cook, uncovered, for 5 minutes. Remove pan from heat. Let cool. Place chili-tomatillo mixture (mole) in a blender container. Puree until smooth. Return pureed mixture to pan. Cook over medium heat, stirring occasionally, until thickened, about 5 minutes. Stir the thickened mole into chicken and broth. Simmer, uncovered, for 15 minutes. Meanwhile, in a medium saucepan, bring 2 cups water to a boil over high heat. Add chayotes and green beans. Cook 5 minutes. Drain. Serve with chicken and mole.
This recipe was provided by the Centers For Disease Control. For more recipes, check their website.
How do you freeze tomatillos? What is the best way to cook tomatillos?
By Glenda from Saginaw, MI

Answers
September 8, 2009
0

found this helpful
TOMATILLO SALSA
2 cloves garlic
1-1/2 tsp. salt
1 small white onion, coarsely chopped
2 or 3 or to taste Serrano Chiles, stems removed, cut into chopped pieces
1/2 lb. Tomatillos (6-8 average size) cut into fourths
6-8 sprigs Cilantro
1 ripe avocado
In food processor or blender, process garlic and salt to paste
Scrape down sides and add onion, chilies, Tomatillos and cilantro.
Process with on/off motion to make a slightly chunky puree
Scoop avocado into machine. Process to desired smoothness.
Serve and enjoy!!!
September 8, 2009
0

found this helpful
Tomatillo Sauce
Tomatillos are those little things that have begun to appear in supermarket produce sections that resemble green tomatoes wrapped in brown paper. This unique and versatile sauce can be prepared with either canned or fresh tomatillos.
1 medium onion, finely chopped
3 or 4 cloves garlic, minced or put through a garlic press
2 tablespoons cooking oil
1 14-ounce can tomatillos, drained, OR 1&frac; cups fresh tomatillos, husks removed, chopped
1 7-ounce can chopped green chilies
1 fresh jalapeño, seeded, stem and veins removed, finely chopped
&frac; teaspoon sugar
salt to taste
1 tablespoon water
1 medium green tomato (optional)
The juice from a whole lime
Sauté the onion and garlic in the oil until the onion is clear. Add the tomatillos, chilies, jalapeno, and green tomato (if using), and pour the entire mixture into a blender or food processor. Pulse to make a coarse purée.
Return mixture to pan. Add the sugar and salt, and simmer over low heat for 30 minutes until sauce is thick.
Answer

this Question