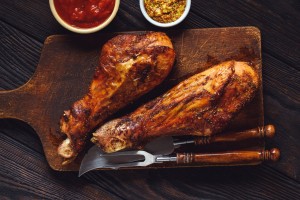 I just bought some turkey drumsticks. How can I prepare them? Any ideas for serving one?
By patricia a dufresne from Canada

Answers

OliveOyl
Bronze Feedback Medal for All Time! 138 Feedbacks
July 15, 2010
0

found this helpful
Best Answer
Very large turkey drumsticks tend to have large, tough tendons running through. These come out best cooked low and slow with moisture. A crock pot is ideal but the drumsticks may not fit due to the large bone. For the oven, use a baking pan and add broth, onions, carrot, seasoning. Cover with foil and bake. Might as well cook a lot and freeze portions for later consumption.

July 15, 2010
0

found this helpful
Best Answer
I put mine in the oven. I season with Lawry's 17 (or Mrs. Dash) and a bit of no sodium salt. My liquid is white grape juice, about a cup or so, and then I cover my dish with foil.
I'd use a crock pot, but mine isn't big enough. Oh, so good!
Best Answer
You could simmer it in chicken broth and seasonings until the meat falls off the bone. Let it cool, remove skin and bones, then use it and the broth to make turkey and Bisquick drop dumplings. Or add the cooked turkey to cooked macaroni and add a can of cream of mushroom or cream of chicken soup, or just toss the cooked turkey into a salad.

July 17, 2010
0

found this helpful
Best Answer
Here is my favorite recipe for Turkey Drumsticks~~~
Baked Turkey Drummies and Gravy
4 whole turkey legs
1 onion [chopped]
2 t. seasoning salt
2 t. meat tenderizer !!!
1 t. poultry seasoning
1 can cream of chicken soup
Place turkey in baking dish.
Season with salt, tenderizer, and poultry seasoning.
Then add soup.[spreading over turkey] and cover.
Bake at 400° for 1 1/2 hours or until meat seperates from the bone.
Prepare a side dish of rice or mashed potatoes and serve with gravy from the pan.
OPTIONAL ITEMS:
celery and carrots

Grandma J
Silver Feedback Medal for All Time! 270 Feedbacks
July 17, 2010
0

found this helpful
Best Answer
You can cook the meat off, cook the bones for broth, divide the meat for recipes and refreeze in a bit of the broth.
I use the drumstick, some water to cover in a kettle, basil, salt, med chopped onion and cook on medium, covered. This makes the best broth stock. Use the meat in hotdishes, salads, etc as dark meat (drumstick) holds the favors for many different uses.

July 19, 2010
0

found this helpful
Best Answer
Turkey Pot Pie
2 turkey Legs (turkey wings work as well)
Garlic powder
1 bag frozen mixed vegetables
1 can cream of mushroom soup
1 can cream of chicken soup
3/4 cup skim milk
1/2 cup Miracle Whip
1/4 tsp. onion salt
1/4 tsp. pepper
1 can crescent rolls
Directions:
Sprinkle legs with garlic powder (to taste) and cook on stove top with a little water. Be sure to flip the legs several times while cooking. Cook until done then allow to cool. Pick the meat off of the legs.
Mix meat, soups, milk, Miracle Whip and spices.
Add meat mixture to crock-pot then cover it with crescent roll dough.
Cover and cook on low for 6 hours then prop open the lid (with a wooden spoon if necessary) and cook on high for 30 minutes to release the condensation and allow the crescent rolls to brown a bit on top.

July 19, 2010
0

found this helpful
Best Answer
I put them in the crockpot with a tiny bit of water. Rub them with butter, season with salt and pepper and a little poultry seasoning and a sliced onion.
Cook all day on low and they taste like roasted turkey from the oven. Use any leftover meat in casseroles.
Answer

this Question