I am looking for chicken leg recipes.
By Barrie

Answers

September 10, 2009
0

found this helpful
I like to bake them with a mixture of soy sauce and honey, in a 13 x 9 dish, cover with foil wrap. Bake at 350 for 45 mins, then remove the foil, and bake for 15 more minutes.
I also do these in the crock pot when it is too hot for the oven, on low for 4-6 hours. It tastes a little like the honey-soy wings that a local Oriental restaurant makes.

September 10, 2009
0

found this helpful
I had stuffed boneless legs at a fancy dinner and they became a favorite of mine. You can stuff them with a plain box mix stuffing, or with a gourmet mixture of ingredients such as wild rice, sausage, and mushrooms. You can tailor the ingredients to your favorite French, Italian, Chinese, African (or any ethnic flavor) dish. The skin can be left on, taken off, or even wrapped in bacon. There are a number of good recipes on the internet, and this is a link showing you how to remove the leg bones. www.youtube.com/watch?v=myt6Gkx77GY

September 10, 2009
1

found this helpful
My daughter puts a large package of chicken legs in her crockpot, adds a jar of spaghetti sauce, and turns it on. I do similar but on a smaller scale since I live alone. I have done this with any pieces of chicken in my small 2 quart crockpot and added a can of stewed tomatoes and italian seasonings.
Improvised chicken cacchiatore (?spelling) and delicious. Hope you like it.

September 11, 2009
0

found this helpful
My kids love buffalo wings, and legs can be done same way. Since real wings have gotten so expensive, legs are a thrifty substitute. Just fry legs in oil until done, and toss with buffalo wing sauce. And DON'T buy a bottled wing sauce, that's wasting money.
1 part Lousiana Hot Sauce (or cheapest bargain brand)
1 part butter (or margarine)
melt together, and toss with fried chicken legs while hot to coat.
You can adjust the relative amounts of butter and hot sauce to make the sauce hotter or milder.
Photo credit Mark Fern, Women's Day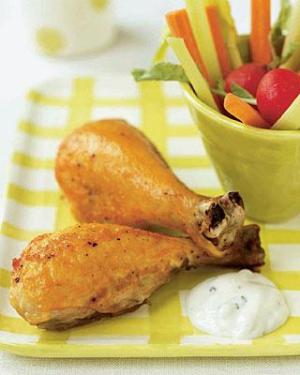 September 11, 2009
0

found this helpful
I like to dip them in flour, then in egg wash that has a little mustard added to it, leave our the yolks, it gets crisper that way, then dip in bread crumbs. Pop in over on a wire rack for about twenty minutes. Of course, the time depends on how big your leg is. Cut down into one after fifteen minutes and check. The smaller ones may be done in fifteen.
One of the secrets to this is to brown your bread crumbs in the oven on 350 degrees until they are really brown. Even if you are using store bought ones. They won't brown much on the chicken itself, so they need to be really brown to begin with.
You can add some garlic and a little more butter to the crumbs before browing for more flavor.

September 12, 2009
0

found this helpful
I like to cook six or seven in cream of mushroom soup with lots of onions. About an hour in, add potato and carrot chunks and cook a half-hour longer. The meat makes splendid sandwiches too.
Answer

this Question
What is the fastest way to cook chicken legs on a gas grill?
By KM

Answers

June 1, 2011
0

found this helpful
Score two lines on each, allowing some of the juices to escape. One score line on each side. Two lines per side if the legs are big.

(Guest)
Gold Post Medal for All Time! 846 Posts
June 1, 2011
0

found this helpful
If you're going to score the chicken or cook it fast at high temperatures I suggest you marinate it in buttermilk overnight before cooking to help keep the meat moist and juicy.

June 1, 2011
0

found this helpful
The night before, get some water to boiling and drop the chicken legs in for 10 minutes. Pull and allow the chicken to cool down and refrigerate. They are now ready for grilling. Once the grill is fired up, place on grill to brown and brush on sauce. The chicken stays moist and you don't have to toss the water, save it for chicken stock if you choose, just allow it to simmer to reduce the liquid. This is a two for one.
Source: This is how the military does it and you know they cook for many. :)
Answer

this Question
This extremely quick drumstick meal is ready in 25 minutes. The blend of onion and citrus produce a delicious sauce for the chicken.
This page contains an Instant Pot recipe for citrus chicken with onion gravy.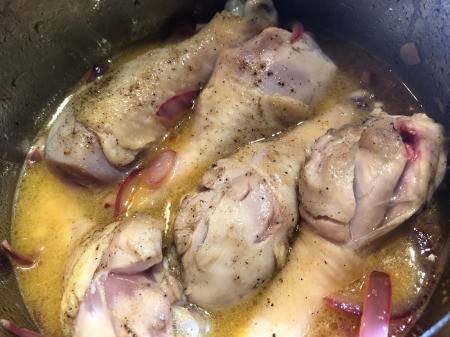 One thing I missed when I could no longer have wheat flour was fried chicken. It took me a while to learn how to make it gluten free and taste just as good. Using my new electric non stick frying pan, it turns out crispy on the outside, tender and juicy on the inside and finger licking good. My family loves it as well as I do. It's also good warmed over the next day. This is my simple and easy recipe for frying chicken.