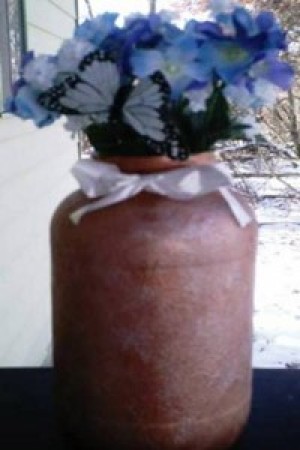 A recycled flower vase is made from reusing an empty pickle jar. It is very simple to make by taking the most ordinary item, a pickle jar, and turning it into something beautiful with a little bit of paint, time and flowers.
This craft can be made by using any kind of jar including jelly jars, pickle jars or applesauce jars. It is also so easy that a child can do it. It makes the perfect gift for Mother's Day, a Birthday or even Christmas.
Approximate Time: 1 hour
Supplies:
empty pickle jar
tea kettle
cleaning sponge
sea sponge
acrylic paint(s)
flowers
Instructions:
Clean out the pickle jar and also clean off the outside of the pickle jar. Soap and water can be used on the inside, but getting the labels off the outside can be more challenging. Boil water in the tea kettle and pour into the pickle jar. Let this sit for 10 minutes. Pour out the water and peel off the label. The steam helps remove the glue from the label. Dry the jar.
Dip the sea sponge into the acrylic paint that will be the base color for the flower vase. Dab the paint over the jar covering its entire surface. Use a dark color for the base. Let dry.
Use the sea sponge to add a second layer of paint to the outside of the pickle jar. This color should compliment the base color. Some examples of this are pink base, yellow top coat; green base, red top coat; gold base, silver top coat. Let dry.
Add flowers. If adding real flowers, fill up vase with water. If adding fake flowers or silk flowers, insert a green foam pad to hold the flower stems in place.
By Linda from Blakeslee, PA
Comments
April 22, 2009
0

found this helpful
Now that one, I like. I've seen too many which compete with the flowers, this one is a nice color and complements the flowers.
May 9, 2009
0

found this helpful
Thanks for the extra solution of how to get labels off jars. This is also cute and would make a nice gift as well as decorative piece. Sometimes you want to give flowere but you haven't a vase to put them in that you can afford.
This means you can spend more on the flowere or just make a nicer presentaion without spending all the extra money on a vase.
June 9, 2009
0

found this helpful
I love this idea! I have two huge pickle jars that I am going to use for this project. It will look pretty on my father in laws deck. He needs something feminine to dress it up. This will be perfect!