Making Recycled Perrier Bottle Glasses

Jess
Silver Post Medal for All Time! 267 Posts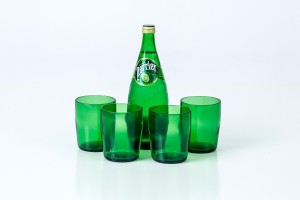 I have been saving these pretty green Perrier bottles every time I splurge on sparkling water. They were very easy to cut in half and just a little more work to smooth the sharp edges. They make attractive drinking glasses that would be great in a bathroom or for a cheerful breakfast table.

Total Time: 20-30 minutes per glass, depending on how smooth you want the finished product
Yield: 4 drinking glasses
Supplies:
4 glass Perrier bottles ($1.50)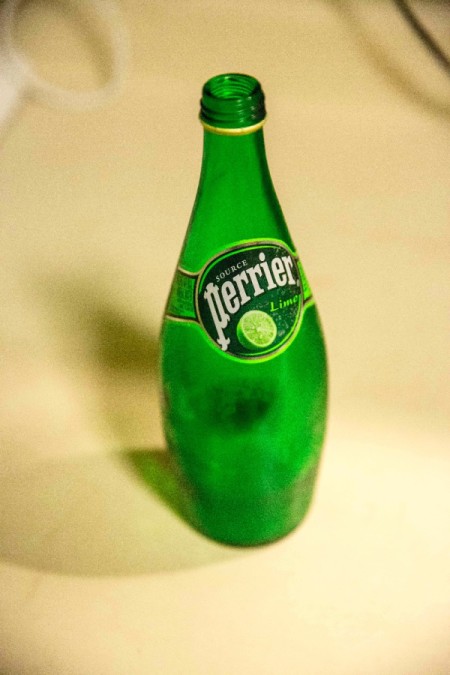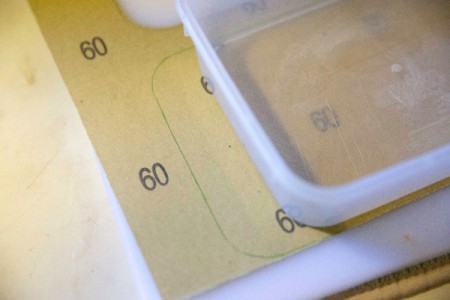 Related Products: (Affiliate Links)

Steps:
Soak and clean the glass bottles, removing the paper labels. Soap and water is usually sufficient, but isopropyl alcohol can be used to remove any sticky residue.

We found that this step was mainly unnecessary for this type of bottle as the labels came off easily in the water baths. You would want to remove the label if it was in the way of your cut line.

Clamp the cutter to the bottle where you would like to cut it, with the blade retracted for now. We used a deep soup bowl as a base for our cutter. You could also use a canister or set up blocks to the correct depth.

Extend the cutter so that it makes contact with the bottle. We had the best success by starting to turn the bottle as it made contact with the bottle, cutting in one pass. Once you have gone all the way around, retract the blade again and set the bottle to the side. You should see a fine score line that wraps around the entire bottle.

Once you have all your bottles scored, you will need to prepare a pot of boiling water and another of ice water. We used our kitchen sink for the ice water.

Take your scored bottle and place it in the just boiled water for 2 minutes.

Move the heated bottle to the ice water for 2 minutes. You may hear or see some cracking around the score line. When the time is up, be careful as the bottle should separate at this stage. The water works well as a cushion, but the glass is still sharp, so use caution.

If the bottle has not separated, return it to the hot water for a bit longer. All of our Perrier bottles would finally separate after reheating. The two halves of the bottle will be both hot and sharp, so be especially careful.

Sometimes, you might get a bottle that just won't separate, or cracks badly during separation. This probably means that it wasn't scored consistently all the way around. Be sure that you are scoring deeply but only a single time around for the best results.

After the bottles have been separated, it is time to sand down the sharp edges. There are a variety of different techniques out there, but we settled on a manual process, using wet sandpaper. We cut the sandpaper to fit in the bottom of a flat bottomed plastic container.

Starting with a 60 grit sandpaper, smooth down the edge until it looks dull and the sharp edges are all worn down evenly. You want to do this in water, to avoid dangerous glass dust in the air. We had the best results with a circular motion onto a flat surface, like a countertop or even the floor. Be very careful that the sandpaper does not slip because it can scratch up the sides of the glass, especially when smoothing the outside edge.

This is the most time consuming and important part of the polishing process. It will take about 15 minutes a glass to smooth it down, longer if the cut wasn't evenly. Keep smoothing until it is entirely dull, with no shiny parts (lower edge of polished cup). It should resemble beach glass all the way around.

To smooth the inside edge of the glass, we found that an emery board, used for manicures, worked very well. It was very hard on the board, however. Start with the coarse side and then use the fine side. You can also cut pieces of sandpaper to wrap around a worn emery board, wooden craft stick, or even your fingers. Again, use caution to avoid unintended scratches.

Use the same process with increasingly finer sandpaper to sand the edges until it is as smooth as you wish. The 60 grit was smooth enough for safety, but the cup looked more and more finished as we used finer grits. As you go to the finer grits, it just gets smoother and smoother until it starts to resemble the broken edge again in color.

For this project, we used 120, 220, 400, and finished with 800 grit. This only takes a few minutes per grit before you switch to the next. Be sure to polish the inside and outside edges with each finer sandpaper too

There is definitely a learning curve to the sanding process. Plan on a practice glass or two to get the technique down. Our first one has lots of scratches, our last one has almost none.
These cups are a big hit. They turned out better than we expected. We hope to practice with glass etching and other ways to personalize these pretty green glasses. In the future, we may try to use a power sander but that opens us up to flying glass and glass dust. This low tech solution is more time extensive but it feels safer as a family project.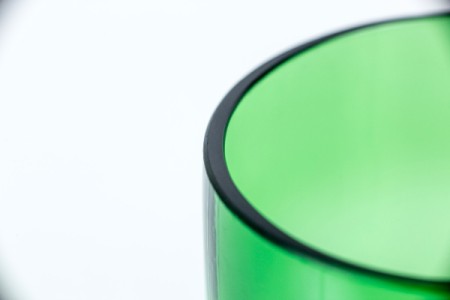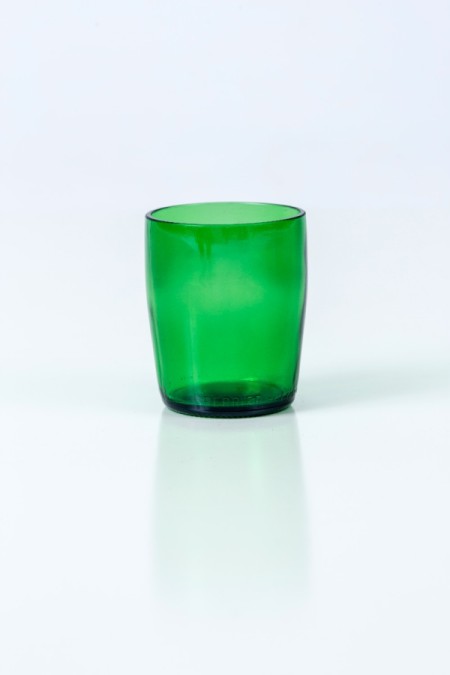 Read More

Comments
Videos
It's easy to use a rotary bottle cutter to make recycled drinking glasses from Perrier bottles. Learn how to make them in this short video.
Published by ThriftyFun.
© 1997-2023 by Cumuli, Inc. All Rights Reserved.
https://www.thriftyfun.com/Recycled-Perrier-Drinking-Glasses.html