My husband pressured washed the finished off our pressure treated wood deck. How can we repair it to like new condition? We tried Thompson's Water Seal, but it hasn't lasted. The deck is about 4 years old and looks 10 at least.
These pictures were taken today, 6/1/2011, but I do not know how to change the date on my camera.
By ruthie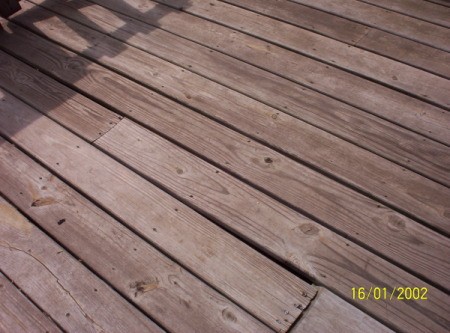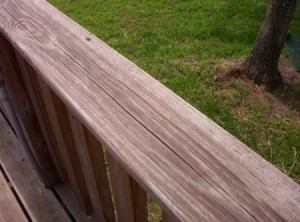 Answers

June 1, 2011
0

found this helpful
Best Answer
Well, the wood in the pic looks like pressure treated wood and they do not wear well over a short time. They splinter,warp and get a baked out look. Water seal type products do not last more than a year or two. My deck is also pressure treated wood but I stained mine with semi transparent stain from Home Depot.
It lasts about 4 years or so before it has to be stained again. Do not use solid stain or paint as that will peel and really makes a mess. The semi transparent does not do that. The other alternative is to replace the wood with a composit material, available at the big box store, and a vinyl railing.

June 2, 2011
0

found this helpful
Best Answer
The first thing to do is use a primer made specifically for the final finish you want to use. I had a huge veranda in southeast AL built from pressure treated wood, and it lasted the twenty years we lived there.
My then husband and our son built the veranda with pressure treated wood right after we moved into the house. They applied primer (marked for use on wood to be painted with oil based paint or stain) to all of the wood.
Next, they painted with an oil based exterior house paint made for porches-the stuff with a gritty texture to prevent slips and falls when wet. It cost a bit more, but really looked good for about five years with minimal maintenance.
After five years it started looking faded so they used a TSP type cleaner, then repainted with the same paint they used the first time. They didn't need to strip down to the bare wood, just TSP'd, then painted.
Looked good for another five years or so. As I recall, they repainted twice more during the years we lived there after they built that veranda. We always got compliments on how nice it looked, and how safe the porch paint made using the veranda steps during the rain.

June 2, 2011
0

found this helpful
Best Answer
We use Olympic deck cleaner and sealant products on our cca, pressure treated and cedar decks and fencing. First we use their can of deck cleaning that you put on w/sprayer and then wash off with water, looks really clean, then paint on their stain. You need to make sure everything is dry after cleaning so we usually wait a day before staining. I can tell you we live in MO and get all kinds of weather. We do this approx. every 3 years. If you keep on top of it you can keep them looking almost new most of the time. We have gotten these products at Costco as well as hardware stores. These products are easier to use than in the past. Our neighbors are also using and getting great results. We even use around our pool. You might check out Olympic's website. Follow the directions and take your time the first time and do a good job. Suggest you brush on first time, then can roll and spray later. Hope this helps -- we don't always have to stain all all the same year, either once we keep applying. We've tried other brands and not been as happy. Hope this helps.

June 2, 2011
0

found this helpful
Best Answer
Linseed oil has been used for hundreds of years to preserve wood surfaces. It's a natural crop oil -- from flax and will not evaporate. Is a very good primer for paint, but I've found there is no need for paint after linseed oil has been on decks, rails, stairways, etc. It will darken from sun exposure and I like that.
After first application one has only to renew it maybe every other year. Check online experts for first applications.
You can make surfaces 'non-skid' by strewing really fine sand (Lowe's, Home Depot) on freshly oiled surfaces, then adding another coat of linseed oil. Don't expect it to dry overnight, go guard your TV as usual, as a couch potato and check on it maybe next week.
Answer

this Question