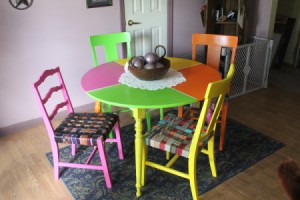 We got this idea from a estate sale we attended several weeks ago. The chairs were just throw-aways. With a few visits to the local thrift store and a couple of hours of work, we transformed these old chairs into useful items again.
We used old belts that were acquired from the local thrift store, at about $1 apiece. The belts can be either leather or fabric. We started by removing the original seat from the chairs. Then with the aid of an air stapler, the belts were added. Run the belts in one direction until the opening is covered, then in the opposite direction. Start weaving the belts with each other until the seat is covered. Be sure to pull the belts tight as you are stapling them to the underside of the chair.
We painted the chairs before we added the belts. Go crazy and paint them loud and proud. Then we sanded and repainted the table to match the chairs. Bear in mind, these were headed to the dump, now they are being used everyday.
If you have any questions, please feel free to ask. Thanks for looking.