I have the world's worst dry skin. I have used many over-the-counter products, but nothing does enough. I have heard drinking lots of water actually helps. Any response to that? Also, my face has dry flaky spots, I need a recipe for a good homemade mask. Something that will moisturize and refresh.
Thank you,
Nelwyn from Bunkie, LA
Answers:
Remedies for Dry Skin
Have you tried Helmans dressing? Also, try avoiding soaps of any kind on your face. I use water and a dry towel on my face and steam it with a hot rag once a week. (02/26/2006)

By paisley
Remedies for Dry Skin
I used Vaseline on the foot and wrap in Saran Wrap to sleep a few nights. Remarkable difference. (02/26/2006)

By Althea P.
Remedies for Dry Skin
Try Neosporin to heal the dry spots, it works wonders on my husband in the winter. Cold creams work well to clean without drying your skin even more. I love Clinque's line of products, but they are a bit pricey, it's my one indulgence on myself. I, too, love to "steam" my face. Take a decent size bowl fill with very hot water, drape a towel over your head and keep your face over the bowl until it quits steaming, taking a break when you can't take it anymore. I like to add lemon or cucumber slices to shake it up a bit. Fair warning, it will make you drool and your nose run, so it's also great when you're feeling under the weather.
As for the water, it does help. I usually drink 2 quarts a day which works well for me, it boosts your energy too. Just be careful because there is such a thing as too much water. It can flush vitamins and minerals from your system before you can digest them.

The trick with the Vaseline does work wonders on your hands and feet. I would also try, if you haven't already, a lotion with oatmeal in it, the Suave version of Aveeno works well, for your body. The latest thing I've found is Balmex Daily Protective Ointmet. I use it on my daughters' faces when they go outside to help prevent windburn and the dryness from playing outside in the winter.

Good luck to you. We know what it's like battling the drysies as my 2 year old calls them. It's no fun. I hope you find something that helps.
Rebekah
(02/26/2006)

Remedies for Dry Skin
I use St Ives Firming cream. Not only does it rid you of dry skin, but folks I've used it on my face for two months every night before I go to bed. I look like I had a face lift. My laugh lines and crows feet and wrinkles on my upper lips from smoking are gone. It the best. (02/26/2006)

By barbaglia
Remedies for Dry Skin
Go to drug store and buy Aquaphor (greasy, but works best) or Eucerine (a step down). Put on dry skin at night. All better in AM. (02/26/2006)

By TC
Remedies for Dry Skin
Vaseline is the best next to Udder Cream (Bag Balm). The trick is to first wash the area of dry skin with lukewarm water with a puff or exfoliating glove to remove dead skin. Keep the air moist with a humidifier or a can of water on the heat vent. If you have to use soap to wash, try a mild soap with no perfume, Noxema cream every other shower will help instead of soap. (02/26/2006)
By Debbie
Remedies for Dry Skin
I have heard dermatologists recommend gently "blotting" the skin dry after bathing/washing, and then using mild lotion when the skin is still damp. Try the other suggestions for at night. Avoid fragrances, dyes in the lotion. (02/27/2006)

By aardvark
Remedies for Dry Skin
I used Eucerin for years, but it wasn't that great. I've been using what was previously a prescription lotion, but you can now buy over the counter. Amlactin is the brand name. The active ingredient is 12% ammonium lactate. (use to be, you could only get up to 8% w/o a prescription). Even though it's OTC now, you probably have to ask a pharmacist because it's usually kept in the back. It's expensive though. Also, drinking water helps me a lot. (02/27/2006)
By nancyec
Remedies for Dry Skin
I was told by a friend who suffers from psoriasis that her dermatologist told her to use "creams" instead of "lotions". Lotions tend to have alcohol in them which will later cause drying. Creams do not.
What I use, and swear it is the best thing for your feet, is Avon Moisture Therapy Intensive Hand Cream. It does have a Vaseline type consistency to it at first, but soaks in and leaves your skin very soft. It also is somewhat water repellent. Nice if your hands are in water a lot, but can also be slippery. (02/27/2006)

By Donna
Remedies for Dry Skin
I take orally flaxmeal and also flaxseed oil daily and it has done wonders for my skin. Is a very healthy natural food with a lot of benefits. Hope it works for you. (02/27/2006)
By Kinga
Remedies for Dry Skin
Go to the dollar general and buy a bottle of baby lotion, 7.5 ounce jar Vaseline, and a jar of vitamin E cream. Mix together well. This will make a big amount. Use 8 oz. of baby lotion. This is very good for your whole body. (02/27/2006)

By Byron T. B. from, AL
Best Dry Skin Remedy
You won't find a better super dry skin moisturizer than extra virgin organic coconut oil. All Vaseline/baby oils or any other cream or lotion containing petrochmicals (made from refined crude oil) with actually coat the skin and make it drier in the long run. It can also cause lymphoma. As far as flaxseed this is fine, but oral coconut or fish oil is far superior. As for thyroid you can take a free hormone balance and thyroid function test at
abundantlifeessentials.com. (03/01/2006)

By Beth D.
Remedies for Dry Skin
I also have extremely dry skin, especially in the winter months. I was suffering from burning, itching all over, and my skin was actually painful. I never tried flaxseed for a long-term remedy, but I got instant relief by using Aveeno Skin Relief Body Wash - fragrance free. Avoid anything with fragrances because they can be very irritating to your skin, that includes baby oil or anything greasy because it'll clog your pores and mess up your clothing. I couldn't believe how well it worked for me and I highly recommend you try it. I also stopped using a washcloth or scruffer when showering and now blot my skin dry rather than rubbing. Also avoid bathing in extra hot water. Hope this helps. Let me know. (03/02/2006)

By sylviecyn
Remedies for Dry Skin
I have the same problem you do, dry, flaky, itchy patches on my face. And no product seems to help.
These days I've been making moisturizing scrubs, a little bit of sugar or salt mixed with extra virgin olive oil. The sugar or salt exfoliates, while the oil moisturizes.
It doesn't solve the problem completely, but I think it helps a little. And at least I'm using stuff I already have in the kitchen, rather than buying more products that don't work. (03/02/2006)

By Caroline
Remedies for Dry Skin
I have psoriasis and my 11 year old daughter has eczema and we use Curel lotion. I first scrub my skin in the shower every day with my washcloth to get all the dead dry skin off and then lotion right after I get out. My daughter lives with her dad and they don't/won't do anything about her skin condition so when she comes over on my weekends we lather her up with lotion and then during my month in the summer we use it daily on her and her skin is cleared up by the time she goes back to her dad's. I have used it for years and it is the only thing that has left our skin smooth and clear. (03/10/2006)

By Darlene
Remedies for Dry Skin
Here's a homemade recipe that will make your face glow. Take normal table salt and mix in a bowl with water. Not a lot of water and maybe a couple of tablespoons of salt. Rub over face to get dry skin off. Rinse off salt. Steam face over a hot pot of water on the stove. Mix some oatmeal and water together. Make a paste. Put on your face. Let it dry. Wash off. Last step, take a egg, mix it up in a bowl and put on face. Let it dry on your face. Take a warm washcloth and wipe it off. Wow, you'll have a new face. Be careful with the salt. It can burn if you rub too hard. (03/12/2006)

By Angela
Remedies for Dry Skin
After showering I put baby oil all over my body and then dry off with my towel. It leaves your skin feeling soft all day and helps with static in your body also. (03/19/2006)

By scaudle
Remedies for Dry Skin
Olive oil is great and at the drug store you can get glycerin. It attracts moisture. And creams with Urea in them. (03/22/2006)

By
Remedies for Dry Skin
Vaseline does clog pores and olive oil can be a bit smelly and heavy. If you want something light that really nourishes skin, try sesame oil. You can buy it in the cooking oil section of most "nicer" grocery stores. I use it for my skin (face and body) and it's good for hair too. Palm oil is also good, but not the red kind. It's best to buy the solid kind. (06/01/2006)

By bliss
Remedies for Dry Skin
I have found the perfect homemade remedies for my dry skin, maybe could help you as well.
put 2 tablespoon of oat in a pan
add a tablespoon of honey and a little bit of water
let it warm a little
then put on your skin make sure you don't have your best top on, it's a real mess the oat falls everywhere, but its truly wroth it
leave on the skin as long as... you are able to leave it on
But right away you will see a difference on your skin. Try on your hands first of all; it gets smoother and softer. I have tried olive oil before, but I found it too greasy on my type of skin.
I hope it helps. Let me know.
(04/14/2007)

By Giulia, Italy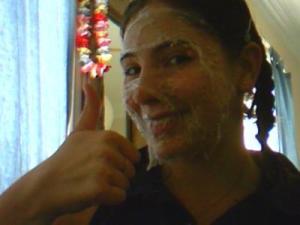 Remedies for Dry Skin
I suffered with dry skin for years, used every cream (expensive and inexpensive) under the sun and ended up making my skin worse. I decided to try a different approach by using Dove Shower Cream followed with olive oil as a moisturizer, in addition to this, MSM, fish oils, and flax seeds capsules and it has made my skin glow with health. I recommend you try taking oils orally first as the skin has to nourish from within. Give it a try, what have you got to lose.
Good luck. (09/23/2007)

By Lara
Remedies for Dry Skin
I use Aveeno Baby Daily moisture lotion on my face and neck and it keeps my skin feeling soft the whole day as well as keeping my skin blemish free. It's fragrance free and has natural colloidal oatmeal. It absorbs quickly so you don't feel it, only the smoothness throughout the day. Hypoallergenic and seriously if it's good enough for babies skin (pediatrician recommended) then it's good for adult skin. I've been using it for over 2 years and my skin has stayed smooth, blemish, and redness free. I used to have combination and pimpled skin, not any more. (02/01/2008)

By vivi76
Remedies for Dry Skin
For very dry and flaky patches on your face, the best remedy can be made using everyday household items. I have psoriasis and although on my face it doesn't come up anywhere near as bad as on other parts of the body, it can be quite hard to shift.

But if you mix 4 tablespoons of olive oil, 1 of salt, 1 of sugar, a few drops of lemon juice and a dollop of marmite/vegemite (I know it sounds mad, but the yeast extract works wonders) and rub it all into your face for a good few minutes every day, the results are amazing.
After it's cleared up, use the mixture every few days. Best remedy ever. (07/17/2008)

By Maria
Remedies for Dry Skin
Please avoid petrochemicals (such as petroleum jelly, as in Vaseline) for use on the skin. Whatever you put on your skin will absorb into your bloodstream. Think about it. If you wouldn't eat it, don't put it on your skin. So, the best things to put on your skin are edibles such as avocado, honey, olive oil, oatmeal, almond oil, coconut oil, egg yolk, etc.
PS--these items are inexpensive, too. (01/13/2009)

By Linda