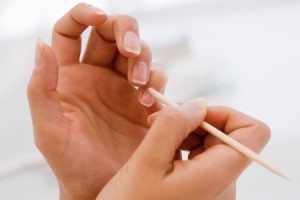 As a recent avid nail biter, I have found a solution to help grow nails that is not only inexpensive but natural and healthy. My nails were really thin (I was able to bend them without pain) and would chip and peel.
Here is my solution: I use NutriNail 5 to 7 day nail growth treatment twice a day (morning and evening). Once dry, I apply a Vitamin E nail and cuticle oil and massage into cuticles and nail surfaces. To help with strength, I use a nail hardener once a day.
These products can be found at your local Wal-Mart: NutriNail is around $4.50, Sally Hansen Nail and Cuticle Oil is around $5.00, and Sally Hansen Nail Hardener is also around $5.00.
Also, having a healthy diet does help nails grow faster and stronger. This includes drinking plenty of water! A vitamin regimen can also be beneficial as taking Biotin (Vitamin B6). Other supplements that have been shown to be successful are Keratin and prenatal vitamins for hair and nail growth since both hair and nails are made of Keratin.
It is also beneficial to gently file your nails (in the same direction) once a week. It does the same thing that a trim to your hair does; it stimulates the nail causing it to grow a little faster.
If you frequently place your hands in water, such as doing the dishes, it is advised to wear gloves because the water can strip nails of natural oils that are essential for growth and strength. The same can be said regarding nail polish removers and dark color polishes. I would recommend a 180 or 200 grit nail file (fine), which can be found at Wal-Mart, dollar stores, and beauty supply stores.
One last tip, if you have short nails or short nail beds, DO NOT TRIM CUTICLES! This can be detrimental to the nail and cause weakness. It is best to gently push cuticles back. This not only keeps the nails healthy and free of bacteria but also helps in the growth process. Do not worry if nails are translucent as they grow as Keratin is naturally translucent. If your nails are white, it could signify that are dry. In this instance, use a hand lotion to soften hands and hydrate nails.
To wrap this up:

Apply growth treatment (which contains green tea extract) 2x daily (not necessary)
Apply nail and cuticle oil once daily (preferably before bed)
Apply lotion
Avoid water, polish remover, and dark polishes
Gently file once a week (same direction)
Drink lots of water and maintain a healthy diet
Take vitamins (B6, Keratin, or prenatals, again this is not necessary)
DO NOT TRIM CUTICLES if you have short nails