I have received so many great tips and information from this site that I thought I was over-due for a pay-back.

Ladies, for those of us who have weak, soft, splitting fingernails, listen up! Buy a bottle of White Iodine (at Wal-Mart or any pharmacy-it can be ordered). It is also very inexpensive - $1.49.

Coat nails every day for a week and then a couple of times a week afterwards. It binds the protein of the nail (or something) but it will make them harder. You will not believe it. It truly works! Try it--you will love it!

By Nolasandy from New Orleans, LA
Comments
August 7, 2007
2

found this helpful
Top Comment
Yes, it is medically safe, I've checked with my Doctors and Pharmacists (they all thought I was crazy). You don't absorb that much in your system. And after the first week, you only use it a couple of times a week. Like on a Boo Boo.
Also, It really is colorless, not actually white,
Also, Nails are actually dead cells. Somehow, the iodine combines with the protein that the nails are made of and makes them a harder substance.
OK?
Ask your Pharmacist. One told me that is was an old wives tale. Be that as it may, it works for me!
Good Luck, Nolasandy
By Corine (Guest Post)
December 15, 2007
1

found this helpful
Top Comment
White iodine does work. I've used it. The trick in preventing it from drying out the nails is to mix with a little olive oil or castor oil. Use one part white iodine to 3 parts olive or castor oil and put in small bottle or other container - better to start small (ie 1 tsp white iodine to 3 tsp oil). Shake the mixture well before each use. Then use a small brush or a Q-tip to paint on your nails and cuticles - rub it in with fingers from other hand. Leave on over night. Use it every night for a few weeks then you can go to maybe 3 nights a week or as desired. This strenthens your nails and helps stimulate growth as well. I took a modeling course many many years ago and this was what we were told to do for our finger nails - this was also before women started having acrylic nails put on. It works great and my nails started growing and were much thicker. You can put on cotton gloves made for hand treatments if you want to.
September 9, 2009
2

found this helpful
Top Comment
Anyone who wants better nails should try this: Every night (or morning and night) use a heavy hand cream and massage into your nails for a couple of minutes. Do this vigilantly for a few months and you will grow better stronger nails.
After years of splitting, breaking, thin weak nails, I now have long, stronger nails. I use a buffing pad almost daily also. All your nails need is attention - this is a cheap and effective way to grow nicer nails.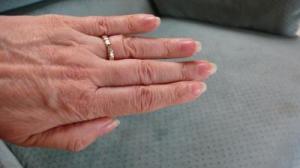 March 3, 2010
3

found this helpful
Top Comment
Its difficult finding information on this so here are my conclusions based on my research and my wife's experience with white iodine.
- Retail price for white iodine is usually about $3.50 per bottle, but I found it for under $2. Caution, i found some local pharmacies like walgreens and CVS selling it for as much as $6 per 1 oz. bottle!
- It can be nearly impossible to find in some states and countries. Thats where online shopping comes in handy. I found mine at www.AlivioVital.com
- It is medically safe to use & body will not absorb dangerous amounts
- White iodine is a clear iodide and is also known as decolorized iodine, colorless iodine, clear iodine & yodo blanco.
- It became very famous as a treatment for nails (yes it works, my wife talks miracles), alopecia areata (a hair loss treatment) and some rare skin disorders.
- If using for nails, do not wash dishes within an hour or two after. Chemicals in soap make your nails yellowish after iodine was applied.
- Only apply once a day or every 2 days on nails. Or they might get a bit yellowish and even more brittle! Applying more amounts will not do more work! Patience is a virtue.
- If applying daily, its recommended you mix with castor oil. We found both iodine and castor oil in the same online store at very low price. It took about 2 weeks to see obvious results but my wife noticed improvements days after starting the treatment.
- Keep iodine away from reach of children. It is a poison if swallowed!
Hope these tips help. Didn't want to spam with a bunch of links on where to find it so I only provided the most popular and inexpensive one i could find. Feel free to look elsewhere.
Sincerely, Johnny
(happy cause I saved on weekly manicures for my wife; hope she doesnt read this)
September 3, 2010
1

found this helpful
Top Comment
I just had to join this site to let you all know, that Nolasandy is absolutely right about the white iodine! I have bitten my nails for over 40 years and my cuticles were a ragged, bloody mess too. I started using the white iodine once a day for about 2 weeks and I started seeing a difference in my nails just after the second day! My nails have finally grown and my cuticles look wonderful too for the first time in my life! My nails are firm and pink. White iodine is safe to use. It is sometimes taken internally. Read about it online. Newnelly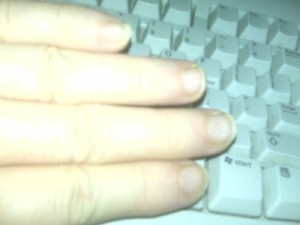 Read More Comments