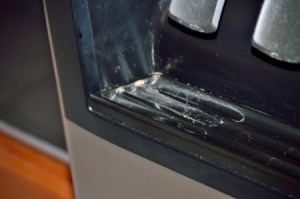 This tip will make you flip! Water deposits/mineral deposits/hard water deposits, we all know what that is by different names, and it forever gets crusted in the refrigerator "drip tray" where the water and ice come out of the front of the refrigerator.
And, if the plastic refrigerator tray part is of a delicate plastic and or shiney, any acidic products will degrade and matte the shine right out of the plastic, and any scrubbing done on the delicate plastic, even with the softest toothbrush or baking soda (because of the grit) will scratch the surfaces also.
So to eliminate any destruction at all to the item that you want to remove the water deposits/mineral deposits from the easiest and simplest way is this, and it works like something you've never seen before, and it will make the item brand new looking just as the day you bought it, without any damage at all.
I'd learned this years ago when selling pure water systems for homes, and I'd of posted all of this sooner, but as you can see, I didn't think about it "until I looked at my own refrigerator tray" and realized it was way past time to clean it, as it desperately needed it. It is embarrassing to show you how neglected it got, but now I want to share this with you all.
This tip will absolutely change your way of cleaning forever, because this technique can be used for carpet stains too, clothing stains, you name it (as long as you don't, and have not used anything else on it first) this will be the way to remove any water/mineral deposits, plus, stains.
This is also going sound quite shocking, but, it's real-and I can't wait until you try it too!
All one needs to do to remove "hard water or mineral deposits" on delicate plastic (such as the refrigerator drip tray-or anything actually) is to saturate a paper towel or two in *bottled water* and use absolutely NOTHING ELSE.
I capped the words "nothing else" because I cannot stress this part enough.
If anything else is used, it will be impossible to work.
You are going to use just "bottled water" and a paper towel.
Please don't even use a rag, because we all wash our rags too in "tap water" in the washing machine, which also contains "minerals" so that's embedded in the fibers of the rags which will defeat the purpose.
I know we're all conditioned to use products of all kinds when we want to remove water deposits/mineral deposits, like vinegar, baking soda, soft toothbrushes etc, and we are also conditioned to use soaps and or soaks with scents of all kinds too when we have a food or drink stain on clothing or carpeting, but this is really a re-programming that all of those cleaning products can be used for other things that are not "mineral or water deposits or food or drink stains on clothing or carpeting", as you don't need them for what I'm going to show you.
This picture below is of how bad the water/mineral deposits got on the ice dispensing tray before I even really noticed. I think I had a blind eye to this build up or something, haha, though I get ice out of the fridge daily, it's such a slow buildup on the tray, and then when I do really look, it's like WOWIE KAZOWIE how'd I ever let it get this far gone kind of thing!
How to do.
Soak 2 paper towels in (bottled water) and fold to fit area of concern.
Lay the saturated paper towels upon the "deposits".
Allow at least 30 min before checking to see that the deposits are gone.
And (depending on how built up the scale is) you may need 60 min.
If your paper towels become dry, you must re-saturate them, as the pure
water will break up all your mineral deposits, without any rubbing or
scrubbing or anything else.
Just wipe clean when the scale has been lifted. That's it.
Please see all (3) pictures here.
The last picture (any white part you see now) is only the brilliant shine that's left, and without anything else but what you've seen! I seriously hope you will try this, as I can almost hear you now, (just like I was the first time I saw how amazingly this works).
PS - the paper towels with bottled water can also be used on the grimiest oven too. It doesn't matter how grunged up or burnt on the stuff is either.
No chemicals, no scrubbing, none of that is necessary when you place paper towels saturated with bottled water on top of it and leave it for a while. It's just "like" the greatest cleaner, stain remover, and water deposit remover of all time.