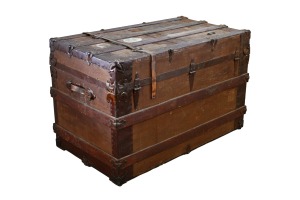 Does anyone know how to get rid of the musty smell from an antique steamer chest that has been in a basement for many years? There is no appearance of mold, but maybe that is what it is.
It just arrived and I would like to buy a custom piece of glass and have a table top. It will make a great conversation piece. But the unknown culprit from this open trunk has triggered allergic reactions in some, e.g. stuffy sinuses. I will vacuum it and am leaving it empty and opened for a while, but now I'm rethinking where I could put it since I do not want to make anyone sick.
It is such a treasure inherited from the Irish side of my family from Salem, MA (Shea) and is probably from the 1890s to 1910.
By Louise from Houston, TX
Answers

Judi
Bronze Feedback Medal for All Time! 239 Feedbacks
May 9, 2010
2

found this helpful
Best Answer
I'd wash it inside and out with a barely damp cloth saturated in vinegar. Then I'd leave it open out in the sun for a week. Next, I'd set a bowl of either baking soda or charcoal in it and bring it inside to see how it does.
Charcoal removes the smell from old books so maybe it'll do the same on the trunk.

May 11, 2010
0

found this helpful
Best Answer
They say a bag of charcoal (not saturated with lighting fluid) will remove any smell. Just rip open the bag and leave in the trunk a few days!

March 9, 2016
1

found this helpful
Best Answer
I tried it all and within an hour or so, the odor returned. Finally, I placed several opened bars of Irish Spring soap inside (each bar set on top of its own box) and closed the trunk for 5 days.
The odor disappeared, the fresh scent of Irish Spring remained.
Answer

this Question
My Granny traveled by wagon with her family from west Texas near Odessa to Weatherford, Texas. Mother was about 2 years of age when Granny and Mr. Hunter loaded a big trunk and started off on a new beginning. They must have had a full load because there were 3 boys along with a minimum of items to set up housekeeping.
When Granny came to live with us due to a bad heart she brought her trunk and later when my immediate family moved to Oklahoma and Arkansas they brought Granny's trunk along. My mother tried to take care of it after Granny died. When my mother was about the age I am now (74) she gave it to me for safekeeping.
Now I've got to find somebody who knows what to do. It is musty, but not water damaged. Please direct me to somebody in southwest Missouri or northern Arkansas. Thank you.
Rosemary
Answers

November 21, 2011
2

found this helpful
Best Answer
Try soaking some newspaper in full strength vinegar, then setting the soaked newspaper in a bowl in the trunk. Close the lid and leave it for a few days-this should remove the odor.
I learned to do this back in the 70s when I was selling Tupperware. I've used it for antique trunks, suitcases, and all sorts of other containers, it really works.
Please make sure you write down the trunk's wonderful history and put it inside once the musty odor is gone. What a treasure that is!

Lilac
Silver Feedback Medal for All Time! 450 Feedbacks
November 21, 2011
1

found this helpful
Best Answer
Spray it with Lysol and leave it in the sun for a day. Turn it so that all sides get some of the sun as the day goes on. When you bring it inside, leave it open for a few days. When you close it, place a bar of soap in it. Keep it in a dry part of the house, not the basement or attic.
Answer

this Question