Cleaning Pet Urine Odors from Concrete or Cement
Solutions
Share on ThriftyFunThis guide contains the following solutions. Have something to add? Please share your solution!
August 15, 2017
0

found this helpful
Cleaning the stains and odor of pet urine off of concrete requires the right product and often some serious scrubbing. This is a guide about cleaning dog pee off a cement floor.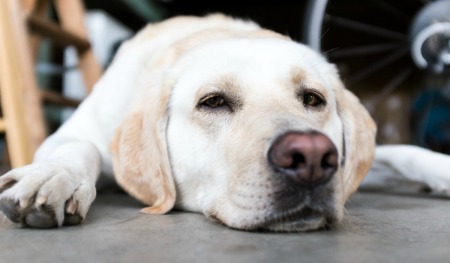 Questions
Ask a QuestionHere are the questions asked by community members. Read on to see the answers provided by the ThriftyFun community or ask a new question.
I guess we could read for days and days about animal urine, but my question may be new. Our son lives with us, and his big dog (part Rottweiler and part German Shepherd), has gone into heat again. She is a very sweet dog and we are planning to get her fixed. My question is about when she urinates outside. We live in an apartment, so she has to go on the cement patio, and it really is a strong fishy odor. Any magic tricks?
Kersti from Bellevue
Answers
By Sissycat (Guest Post)
May 5, 2006
0

found this helpful
Best Answer
I don't know about cement, but my "mom" uses white vinegar either straight or diluted when I have an accident. Of course, I'm a cat, so I don't know for sure how this might work for a dog. lol
May 15, 2007
1

found this helpful
Best Answer
If you want to get rid of the urine odor in concrete use odorxit concentrate. check out the specific instructions on their website under basement or concrete. It works for me.
Answer

this Question

...
Forgive this lengthy explanation/question, but it is unavoidable for it's a horrible situation I'm stuck in!
While on vacation, our house sitter used Mop N Glo on our sealed concrete floors to clean up our big dog's pee and poop accident. Unfortunately I'm certain the house sitter (teenage friend of my teenager, a mistake yes I know) didn't bother to clean the areas before using Mop N Glo, basically sealing everything onto the floor!
It's been a week and I have tried everything. Please someone help!
Answers
September 6, 2017
0

found this helpful
Oh no!
I googled How to Remove Mop & Glo and there are a couple methods you could try for 'build up' but give it a try for your situation too.
1. Vinegar Solution
2. Baking Soda Blend
3. Ammonia Option
Reference: http://homeguid oors-105767.html
September 6, 2017
0

found this helpful
I would make a paste with baking soda and vinegar,scrub the spot. Rinse and repeat.
September 7, 2017
0

found this helpful
I had tried vinegar but it remained smelly, the baking soda/vinegar paste worked brilliantly!
THANK YOU, THANK YOU, THANK YOU
September 10, 2017
0

found this helpful
Acid washing the concrete or products formulated for urine removal from concrete is your best choice. If acid washing, be sure to wear protective eye covering, waders and rubber gloves.
October 9, 2017
0

found this helpful
I don't know if it will remove the Mop n Glo,but it sure as heck is not going to do anything for those pet stains or odors !! Tried it, didn't get anything but some'fizzing' & left over dried up baking soda residue..If you find a solution, please let me know..
My concrete is untreated, gross & embarrassing!! Ugh
Answer

this Question

...
When I moved into my new house the prior residents had both cats and dogs that urinated on the carpet. So when we moved in my little dogs peed all over the carpet also. We had to pull up the carpet and when we did we found out that there was rough concrete underneath. Well my dogs still pee on the carpet. I have used Pinesol and bleach it works for like a day then the smell comes back. What else can I use to get rid of the smell? I read that there was something that could break down the chemical make up of the urine and maybe keep the smell out of the concrete. If anybody could help me with this problem I would really appreciate it. Thanx

Answers
February 21, 2016
0

found this helpful
I wish i could help you, but I don't have a solution for you. I think concrete is a porous material and when you say its rough, it makes me think its more porous. I envision urine running down through all little cracks and crevices. It might be worth an estimate from a company that specializes in wet basements, etc. they would know what product you could put on the concrete to seal it...
(polyuerthane ?) You don't need to hire them to do the work. Maybe you can do it yourselves. I would just ask for an estimate and then go from there to make your decision. I would not want to have to jackhammer up the concrete. I am sure if basements with concrete floors can be sealed there must be a way to help your situation. Good luck!
May 24, 2017
0

found this helpful
KilZ, name brand paint primer is the only thing that will seal that smell in and lock it out for good. Be generous with the coats of it when sealing before laying padding and carpets. That's what my husband and I had to do with a bedroom. Hope that helps!
Answer

this Question

...
I'd like to ask if there is any way to remove odours from concrete caused by mink. Three years ago minks were placed in a semi finished building. After that, there is a terrible smell in all the building. Maybe due to their feed or urine. I really don't know. Can you help me counter this problem? Is there any special chemical product I can use to wash the concrete? Please help me.
By ANASTASIA from Greece
Answers
October 23, 2009
0

found this helpful
There is a cleaning product at most pet stores for ferret urine, since ferret and mink are very similar. I am sure this would work.
October 27, 2009
0

found this helpful
I'd cover the area with lime to remove the odor.
Answer

this Question

...
Related Content
Categories
Guides
More
Categories