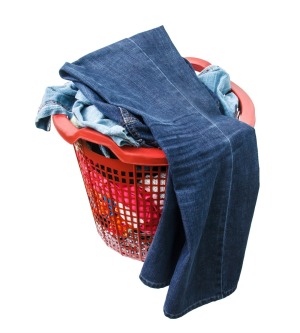 How do you remove the smell of Varsol from clothing? A shirt that had been in contact with Varsol was washed in the washing machine with other clothing and now the whole load of clothing has the Varsol smell. I've tried both hot and cold water washes with laundry detergent to get the smell out, without any luck.
By Lottien from Toronto, Canada
Answers

January 5, 2010
0

found this helpful
We have a liquid product in the U.S. called Lestoil, made by the Clorox Company, that gets out oil, tar, and grease stains. I would think doing your laundry with this product would take the smell out, since it works on petroleum products. This product is found in the stores where the detergent products are sold.

January 6, 2010
0

found this helpful
You could try a box of baking soda in with your laundry detergent on the load of clothes. It took the gasoline smell out of a load of clothes that got washed with my son's smelly gasoline clothes.
Hope this helps you.

January 7, 2010
1

found this helpful
My DH works in a commercial kitchen and his clothes reek of cooking oil. I found a tip (I believe on Thriftyfun.com) to wash the clothes using a tablespoon or two of powder dishwashing soap. He puts in the following:
Oxy Clean 1 scoop
Tide 1 scoop
Dry cascade dishwasher soap 1- or 2 TBSP
Then he puts in 1/2 cup of vinegar in the softener spot, this if for the rinse cycle. It may smell like vinegar at first but the smell goes away as it dries. It works great, he no longer has that smell.
On his black T-shirts. he uses cold water and he omits the oxy clean and they still come out awesome.
Give it a try.

May 9, 2018
0

found this helpful
Remove Goo Gone smell with Castile soap and warm water.
Step 1
1. soaking the offending shirt in about 2 gallons warm water AND about 1/2 cup of Castile soap for several hours.
Step 2
2. Rinse and dry.
You may want to send through wash one more time for soap residue, but if you rinse well it probably isnt necessary.
May 13, 2019
0

found this helpful
Baking soda did NOT work. But Thanks
Answer

this Question

I discovered a crayon had been left in my son's pocket and went through the washer and dryer. Needless to say, it created a mess on the whole load of clothes and the inside of the dryer. Magic Eraser worked to clean the dryer, and Goo-Gone got the crayon off the clothes.
Now, my problem is that the clothes smell like Goo Gone, even after being washed three times. Any ideas how to get the smell out?
By Kate Sprengnether from Lexington, KY
Answers

Danialle
Bronze Feedback Medal for All Time! 126 Feedbacks
August 7, 2009
0

found this helpful
I don't know if this would work, but you might try mixing up some baking soda and soaking the clothes in it.

August 7, 2009
0

found this helpful
My suggestion would be to let it air out in full sun until the smell is gone; shouldn't take too long. Just check often for color-fastness and smell.
I've used this method many times, and it works pretty good. Good luck.

September 9, 2013
0

found this helpful
I have had the same problem in the past I poured a 1/2 cup white vinegar in the sink then filled w/cold water and let the items soak for 2 hrs. I then rinsed the items and washed in the washing machine: adding an additional 1/2 cup of white vinegar. This did remove the odor and a soft sent of vinegar lingered; but went away after I hung the items on hangers after drying.

March 13, 2021
1

found this helpful
My husband got something sticky on his Ravens hoodie and he thought that it was ruined. I tried Dawn and that didn't work. I then sprayed it with Goo Gone and scraped it off with a spoon but then I had to get rid of that smell.
After rinsing and spinning 3 times in the washer it still smelled so I then sprayed it with Lemon Scented Pine sol 100% ( not diluted) and did a rinse and spin and then I dried it and it is like new.

March 20, 2022
0

found this helpful
With your suggestion, I used the Murphy (pure vegetable) Oil Soap that is for safely cleaning wood, and it worked well. Thank you very much.
Answer

this Question

I have a Whirlpool Duet Washer. About a month ago, I accidentally washed a cloth soaked with a gun-cleaning solvent. Since that time, after many loads of wash and attempts to get rid of the smell - it persists both in the machine itself and usually in the clothes as well. Even going on vacation for a week and leaving the door open to air out didn't help.
I would greatly appreciate any advice or ideas anyone may have to solve this problem. Thanks!
Andy from TX
Answers

July 27, 2007
0

found this helpful
Try running a cycle of strong vinegar water in the washer. Vinegar is a natural cleaner and will take even gasoline odor off your hands.

July 30, 2007
0

found this helpful
Mix vinegar and baking soda, and run the machine full cycle. First put three tablespoons of baking soda in the machine. Then add 1/2 cup baking soda.
By Graycrab (Guest Post)
July 30, 2007
0

found this helpful
If odor lingers after the vinegar try using Lemon KOOL-AID. The regular not the sugar sweetened. Takes smells out like magic in the dishwasher too.
Answer

this Question