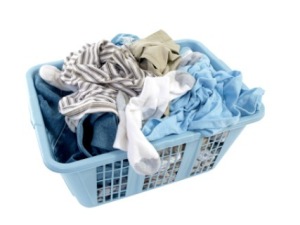 I just purchased new bras that have a very strong rubber odor. They have been washed repeatedly but to no avail. Now they just sit in a box. Can someone help me find out how to remove the new rubber odor in this type of clothing?
Tara
Answers

January 10, 2005
0

found this helpful
I've had good luck getting odors out with kitty litter. A good quality litter seems to work best. Put litter in a plastic bag, put the item on top of it and close it tightly. Let sit for 24 - 48 hours. Works great on smelly tennis shoes, smoke and pet odors.
By Jenny (Guest Post)
September 20, 2005
0

found this helpful
My husband sweats profusely in his sleep. It is so bad that I cannot get the stench out of our bed pillows. Most of them are down and cannot be washed in the washer machine. I have tried febreeze to no avail. Does anyone have a suggestion?
By janice (Guest Post)
August 11, 2006
0

found this helpful
I have had this problem too and from different brands of bras. I have tried soaking them in laundry detergent (even in vinegar) but after each wash they still have an awful odor and I can't wear them. The strange thing is they don't smell like this when purchased, only after the first wash. And from then on. Any suggestions would be great.
Thanks
By Tess (Guest Post)
August 23, 2006
0

found this helpful
I just found this info from a rubber mfr site:
"Rubber Odor: All products made with SBR rubber, including automobile tires, have a distinct rubber odor. This odor eventually off-gasses leaving no detectable odor. Under ideal conditions, the Tire Veneer, upon arrival to the job site, should be unpacked immediately and the tiles or rolls laid out near where they are to be installed. This will allow them to off-gas or breath. The more time available for this the better. Recognizing that ideal conditions rarely exist, after installation, increasing the room temperature as high as possible overnight will accelerate the off-gassing process."
I have a rubber purse that I'm currently keeping on my back porch and after a couple days it seems to be "off-gassing" successfully.
By Marlene (Guest Post)
August 1, 2007
0

found this helpful
I recently purchased a balance ball that you use to excercise with. The rubber on the ball smells so bad it makes me nauseous. The company said the smell will never go away because of the materials used to make it.
Does anyone have any experience with this sort of problem and if so have you had any success removing the smell?

August 13, 2018
0

found this helpful
Janice--Yes, it only starts smelling when it gets into water (or soapy water). I can't return it, because all tags are off. It even made another older bra smell the same, when I washed them together. I'm going to have to wash the older one again.
Read More

Answers

My husband builds tires for a living and getting the sweat and rubber smell out of his clothes is a nightmare. I have used tide, borax, washing soda, vinegar, baking soda... the only thing I have found to help a little, is an entire cup of arm & hammer detergent washed on the hottest setting, and sometimes this takes a couple of washings. Surely there has to be a better way of getting the smells out?
Halloweenfreak from Oklahoma
Answers

February 1, 2006
0

found this helpful
More than twenty years ago, both my brothers were tire builders. I remember my Mom would use Lesitoil.
I don't know if she soaked them in it or put it in the washer along with the detergent.
By siris. (Guest Post)
February 1, 2006
0

found this helpful
Some of the dry cleaners will run work clothes like that through the old cleaning solution before they dispose of it. My son was the tar boy at a roofing company and they did this for cheap.
By Mary Ellen (Guest Post)
February 2, 2006
0

found this helpful
Have you tried Febreze Laundry additive? My husband works at a seafood plant and comes home smelling mighty stinky! It works wonderfully.

February 2, 2006
0

found this helpful
never heard of lesitoil, what is that? and i didn't know febreze made a laundry additive. but im willing to try anything at this point.
even if it smells "mostly" clean coming out of the laundry, the smell returns after it dries.

February 2, 2006
0

found this helpful
The company I represent carries Dryer Sachets. Toss one of these muslin dryer sachets into the dryer with your laundry and enjoy the wonderful fragrance while you're folding the laundry. The scent will be waiting for you when you use the linens days later! Sachets last approximately 10-15 loads. While these sachets are available in the fragrance of your choice, I would recommend the Smoke & Odor Eliminating fragrance. Its good about eliminating tough odors. If you would be interested in sampling 1, email me at: forgetmenotaromas@gmail.com. I'd be more than happy to send you 1 for sampling.
Marla
Forget-Me-Not Aromas (http://www.forgetmenotaromas.com) - Our fragrances leave lasting impressions.
By alexandriah (Guest Post)
December 23, 2007
0

found this helpful
I love the smell of tires and just plain rubber in general.
Answer

this Question

I recently bought a really good bra from VS. It's one of those sports bras with padding. When I came home with it, I noticed it smelled like burnt rubber! The smell is so overpowering. I've washed it four times since then, tried spraying it, etc., but the smell doesn't seem to budge!
I'd hate to have to chuck it. Any ideas? It smells the strongest at the padding.
Answers

DCA
Bronze Answer Medal for All Time! 220 Answers
April 29, 2015
0

found this helpful
You should return it immediately, even though you have washed it trying to remove the smell. The store should refund your payment or provide a store credit.
May 24, 2016
0

found this helpful
I soaked in vinegar and then washed with soap and cold water. I repeated this like 7 times....!! Smell just started going away
September 12, 2018
0

found this helpful
Try to use your hairdryer on the garment, hang it and carefulyl blow hot air not to burn it but around 'almost too hot to touch'. Warm and let cool, repeat three or four times, it should stop. Heat would help de-gass or cure rubber to loose it's odour quickly.
Read More

Answers
I am wondering how to remove a very strong chemical rubber smell from the rubber soles of shoes made in China. I have tried wrapping in a Bounce sheet and putting in sun.
Anna from Milford, CT
Answers

July 18, 2006
0

found this helpful
Have you tried cat litter. My sons shoes stink really bad because he refuses most times to wear socks. I got a pair of socks from the dollar store, put in cat litter that we bought there, too. Tied up the socks and I make him put them in the shoes every night. No smell in the house or in the shoes the next morning.
Answer

this Question