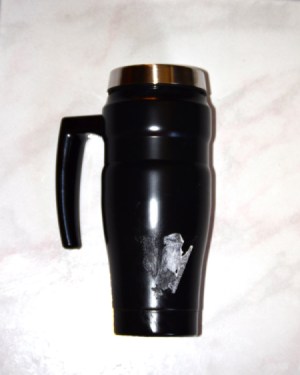 Some of the labels on products are so glued on and difficult to remove because all surfaces are different. Some are painted, which I think this coffee mug to go is painted, as it's stainless steel with a dark baked on glaze or something. I've had this to-go coffee mug that I've not even used because of the big patch of glue on the side of it. Nothing I'd tried worked in removing that label's glue. And I mean I tried soaking it in hot water, applying all kinds of things on it - being very careful not to use anything that would remove the coloring on the outside, yet that's as far as I'd gotten with it, being left with that large gluey patch.
Well, this morning, I tried something different, and it worked, after all this time of not being able to get the label glue off and not using that to-go-mug.
I took 2 paper towels, folded them up, got them wet, not dripping, just saturated with water as I figured even the hottest water from the sink still isn't as hot as the microwave can make wet paper towels, and I put that "paper towel pad" into the microwave until it was too hot to touch (I used gloves), then I placed it on top of the gluey spot and held it firmly. I first applied butter on the "glue patch" on the mug, then the HOT wet paper towels pad.
I was shocked actually that it worked that great, as I'd really tried and read how to remove labels but nothing worked. The glue got gummy enough for me to then take a dry paper towel and wipe most of it off. I did have to do that a few times in putting the wet paper towel pad I'd made into the microwave about 3-4 times for a minute each time, and it took me less than 5 minutes to totally get that label glue off that mug!
I mean it's off, finally! That to-go-mug has been sitting in the cupboard for months, because I gave up on it, and my husband uses his, which still has a patch of glue on the side of it. He didn't mind it, I did though, haha! Now when he gets back home, I'm going to take care of his gluey spot too.