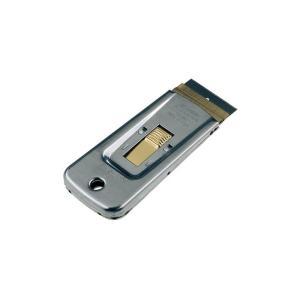 Since my husband is a painter, I have learned a lot. There are these flat edge razor blade scrapers/knives (Home Depot carries them for under $3). They are great for getting sticky/hard things off of glass, smooth floors, etc. We spray the area first with 409, after it sits for a minute, use the razor knife to gently scrape it off. I have used mine to clean many windows of years of dirt and grime, take paint splatters off, etc.
By April R. from Pilot Point, TX
Comments
December 24, 2012
0

found this helpful
These things work wonders on bathtub and/or shower tile. Use it on dry tile and it scrapes off the soap scum.
Vaccum the scum up in the tub. I did this before I started buying liquid bath wash; it doesn't form scum that bar soap does.
December 24, 2012
0

found this helpful
Yep, used it for that too. My scraper has taken off all kinds of things, like stuck on dirt and grass on my kitchen floor, gum stuck onto/under furniture, stickers off of windows, etc. For only $5 or so, I think it is one of the most useful things I have.