How do I get rid of a bad water mark on my pine table?

Kevin
Answers:
Removing Heat and Water Marks from Wood Furniture
I tried the ashes and Mayo, nothing, then the toothpaste, nothing happened so I got the iron out turned the steam on, put a cloth over the top of the stain and like magic my heat stains disappeared. I had numerous stains that were hidden under my tablecloth for years now my dark stained table is like new again. Thanks for all the tips, I new one of them had to work! (11/20/2006)
By Cheryl
Removing Water Marks from Wood Furniture
This hint is a life saver! We just experienced flooding from the Nor'easter and the front base of our 100 year old bookcase (we bought less than a month ago) had all sorts of watermarks.We tried Old English, Howard's Restor-a-finish and my husband was just taking out the steel wool when I went online and found this. The mayo and woods ashes worked a little but really kicked in with the hairdryer. THANK YOU to whoever discovered this! (04/21/2007)

By Laura Berman
Removing Water Marks from Wood Furniture
Hard to believe, but it does work! I had a water mark that was a few months old, even though the casserole was put on a straw trivet, the steam still made a mark...tried the oil and vinegar, didn't work, burned some paper and mixed with mayo (wasn't sure if miracle whip would work, but the mayo did!)....applied and rubbed, nothing, did another application and then heated with blow drier, half disappeared, and on the thrid try the entire mark is gone. The mark was the circumfrance of the casserole, so wasn't small....and now you would never know!!! Thanks for the great trick....felt kinda silly, so mixed it up when no one was home, but you can bet I'll remember this one to pass on to others!!!! (04/30/2007)

By stephanie
Removing Water Marks from Wood Furniture
This morning I found water marks on the dining table from a couple hours earlier, a cherry dining table made by Stickley (a new one, not an heirloom).
Tried something new of my own thinking and it works pretty well: toasted (roasted) sesame oil, the brown kind used for flavoring, not the clear or amber kind used for cooking. You can find it in the supermarket or an Asian food store not far from the soy sauce.
It's not a perfect solution, but since the table already had a little bit of mottling from hard use and some cat scratches (from when we forget to clip their nails and they go table surfing), I wasn't looking for perfection.
By regular applications of the oil, gently rubbing it in by hand, and a little bit of hairdryer use (although the warmth did not seem to add all that much), and sometimes just letting the oil sit on the stained spots, the spots gradually darkened to approximately the normal shade. It left it a little darker around the edges of where the stain was, but only slightly.
The oil seems to have a penetrating quality, and because it has color in it, that seems to help the process. Again, not perfect, but the table looks a lot better now. (05/28/2007)

By Ronski
Removing Water Marks from Wood Furniture
Mayonnaise has always worked for me. But the morning after our Fourth of July party I found watermarks on my coffee table that mayonnaise couldn't seem to touch (even leaving it overnight). I just tried the iron and it worked beautifully and quickly. Thank you so much! (07/09/2007)

By Loganbiz
Removing Water Marks from Wood Furniture
I just bought a cherry Dining room suite for $200 from a garage sale. It had big white heat stains all over it! The seller said some were new and some a couple of years old(from casarole dish size to multiple coffee cup size. He wanted $300, thinking I had to sand and try to match finish and colour I offered $200. That thought changed when I found this forum. Thinking the mayo and ash was completely crazy. I tried it with "Miracle Whip" and a yes HEAT GUN. It worked!!!! I noticed the trick was to get it so hot, that when you wipped off (the almost cooked) mayo it gave off smoke/vapour when touching the hot uncovered wood. I wish I took before and after shots. Who ever thought of this or first and added this to the forum, I lift my glass to you. CHEERS! (07/22/2007)

By Jay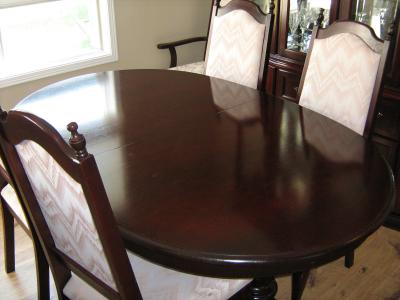 Removing Marks from Wood Furniture
Many years ago I had a spot on our wood dining table from a straw-like hot pad being used under a very hot dish. The result of course was a big mark on the table. First I mixed a little cream of tartar and made a paste and rubbed it on the spot. Then I used a pecan nut and the oils from it totally removed the burnt spot. (10/11/2007)

By Ruthie
Removing Water Marks from Wood Furniture
The ash and mayo mixture worked great! I just used it on a cherry wood coffee table. A dinner plate size white mark left from the day before from a warm pizza box. Put the hair dryer on high and had to work it around the area for about ten minutes. I then repplied the mayo mixture a second time to spots that seemed not so easy to get rid of and eventually they all disappeared. The table looks just like new! Thanks so much for the help. (11/03/2007)

By Sue