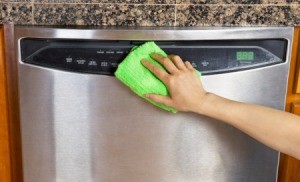 My dishwasher front is Stainless Steel and has these streaks that do not come out with the stainless cleaner I bought. Does anyone know how to get rid of these water marks?
Karen from Coral Springs, Florida
Answers
By Rose Mary (Guest Post)
February 13, 2008
11

found this helpful
Best Answer
Spray with WD40 and wipe with dry cloth. I learned this while working at a laundermat. We had to do this on the big triple loader washers.
By Dakota (Guest Post)
February 13, 2008
1

found this helpful
Best Answer
You can use lemon oil that is used for furniture polish and any stainless steel sink or appliance, as well as, shower doors and faucets. Rub on and buff with a clean dry lint free cloth.
By jan (Guest Post)
March 24, 2008
3

found this helpful
Best Answer
OMB - i used olive oil today on my dishwasher front, refrigerator front, stove front and microwave front and wow - THEY LOOK GREAT! just put a little on a dry, lint free cloth and rub.
By Arizona FAmily (Guest Post)
February 21, 2009
2

found this helpful
Best Answer
I had stubborn stains on my stainless steel appliances. No matter what I tried the marks and streaks stayed put. I came on here and used the vinegar tip. I used a much stronger solution on a paper towel and then wiped clean immediately.
It took 3 wipings but it came out nicely. Then I took WD-40. Wow! My appliances have never looked better. Thanks for the tips. These actually work!!

February 13, 2010
2

found this helpful
Best Answer
Horrible hard water stains from our well water. Tried vinegar/water mix, olive oil, WD40 - all provided minimal help. Silver polish (just the cheap stuff you buy at Walmart for your silver serving dishes) did wonders! Our refrigerator, stove, dishwasher and sink all look brand new off the showroom floor!

January 17, 2011
2

found this helpful
Best Answer
Ok. Here is the best and easiest way I have found to get those water stains off my stainless steel appliances. I have been trying everything that I read and I found that none of them have worked. I went to the store to find Barkeepers Friend, because it was also recommended, but the store didn't have it. What it did have saved my appliances! Both products are made by Weiman. The first one I used was the Metal Polish.
Worked like a dream! The stains came right off (and I have been fighting them for 2 years!) next I used the Stainless Steel Cleaner and Polish (this one I already had, but it just cleans finger prints etc. not water stains). The cleaner cleaned up the Polish residue. That is it. So simple. I know it is not some special concoction, but it works perfectly. Enjoy your stainless steel again, I am!

March 1, 2014
2

found this helpful
Best Answer
I tried everything including Bar Keeper's friend and nothing worked. Finally, I stopped in a hardware store and they recommended Brasso Metal Polish. This did the trick! It has a very fine abrasive, so be sure to rub in the direction of the grain and be prepared to use a little elbow grease.
It completely removed the drip marks from the front of my stainless steel fridge!

December 30, 2014
0

found this helpful
Best Answer
It's very easy. Just wipe it down with a wet Magic Eraser and then wipe it down again with a plain wet rag to remove any chemicals from the Magic Eraser. It works like a charm!

November 17, 2016
2

found this helpful
Best Answer
No. I tried them all, the thing that finally worked well was a magic eraser (several times) followed by washing with warm soapy water

November 18, 2016
1

found this helpful
Best Answer
I just used a "Grate Chef" wipe that someone had given me, and it worked to take off a water drip stain that was driving me crazy! I had used several other methods, sprays and wipes, and nothing worked. They are sold at Home Depot and Lowes and are not very expensive.
Answer

this Question