I received a leather Sak purse from my daughter for Christmas along with a clutch-type wallet. They were wrapped together in a box and you can see the half-moon shape of the wallet on the purse. I am using the purse but would like to remove the indention. Does anyone know how?
Junebug from Long Beach, MS
Answers
January 18, 2007
0

found this helpful
Try ironing over the indentation...of course now, you have to put a towel, maybe even doubled over the area between the purse and the iron...or stuff it as hard as you can and use the blow dryer to heat it...perhaps heat it first and stuff it really quickly...what you are trying to do is soften the site and when it cools the indentation MAY BE out.
Be very careful with either of these methods so as to not ruin the purse...I have no idea what a Sak purse iis or even the material it is made from...if it is a material or a leather this may work...if it is plastic, be extra careful with either method.
Hope this will work. I did this with my car dash years and years ago, when our son "bit" and left teeth marks in the dash of our new car!! It worked, I placed a towel over the area and plugged the iron into the garage outlet and just went back and forth until the dash material warmed up and the indents "released" so to speak
Good luck
By Evsav (Guest Post)
August 14, 2008
0

found this helpful
I was a handbag wholesaler & shipments would come in with
your type of crease. Stuff inside of bag to it's fullest then
blow dry on hot cycle.
January 1, 2010
0

found this helpful
What I've done is use the bowl of a table spoon and rub on the backside.
April 24, 2018
0

found this helpful
'Sak' is a brand, more correctly titled 'The Sak', that makes fashion accessories including [usually casually styled] leather bags.
Answer

this Question

...
I have a pair of red patent leather shoes that have been sitting in my closet. Apparently something was sitting on top of them because now there's an indention on the top of one of them. Is there any way to get this out? It's very small but noticeable to me. It looks like it might be from the heel of one of my other shoes.
Michele from Monett, MO
Answers
February 16, 2009
0

found this helpful
Since most - if not all - patent leather shoes are actually plastic nowadays - you could try gently heating the spot with the dent and then trying to straighten it out by stuffing that part of the shoe with tissue paper or something similar.
February 17, 2009
0

found this helpful
Or just wait until a nice warm sunny day and put them outside to bake for a while.
April 14, 2009
0

found this helpful
A wooden shoe stretcher might do it. They're meant for making too-small leather shoes fit correctly. They also force the shoe to hold its shape when there is no foot in it.
Answer

this Question

...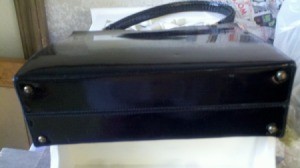 I have this patent leather little purse, and I wanted to sell it, but I noticed after cleaning it has a little dent in it. So, is there a safe way to actually get that indentation out?
Thank you!
By Geri from Central Coast, CA
Answers
February 11, 2013
0

found this helpful
Use a hair dryer on hot, and keep pressing the indentation with your thumb and it will gradually go away completely right before your eyes. You may want to apply some leather conditioner after you are done.
Answer

this Question

...