Kelly Ann Butterbaugh
0

found this helpful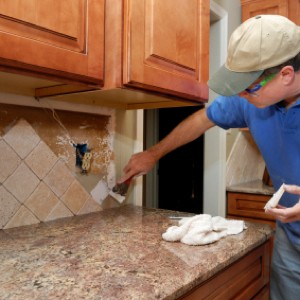 Real estate sales might not be the most popular form of revenue this year, but it does feel good to know that some renovation costs are recovered during the resale of a home. Historically, the all-time slowest years for relocating have been 1948 and 2009, not a very surprising fact. These were the years that people chose to stay put. In a poor economy people are more apt to renovate than relocate, but when the economy gains strength and homes go on the market, the owners may begin to wonder, "If I sink the money into renovations, am I really going to get that money back in a higher resale? Really?" According to Remodeling magazine, you might.
The Kitchen
Kitchen remodels are very expensive, no matter how many corners are cut. After investing $10,000 in a kitchen remodeling project, one would expect to stay in the home for five years to recover some of the cost invested into the remodel. This would bring a yearly cost of the renovation to $2,000.
The numbers say that a kitchen remodel that costs $21,411 can expect a return of $16,765 on the resale. If the remodel is done only for the resale, it's better off undone since the return is only 78%. However, if the original kitchen is suffering from disrepair or severe cosmetic problems it may detract from the sale of the home. Add this new attraction to the return percentage and it might be worth it.
The Bathroom
If the investment in a kitchen remodel is too high, homeowners have created a trend of turning to the bathroom to remodel. Kitchen and bathrooms are the most popular remodeling projects in recent years.
A major bathroom remodel can expect a 71% return at best. In 2005 some remodels received 101% of the investment back upon resale. With the economy falling, the percentage has also fallen.
Minor bathroom renovations offer nice returns as well. Investing $2,000 in new tile, especially if the original tile is grossly outdated or damaged, could still earn a full return upon resale. A simple regrouting also brings about worthwhile returns.
Remember that on average homes with new kitchens and bathrooms sell quicker. The return percentage might rise when less carrying costs are factored into the sale.
Additions
Additions are incredible headaches if a resale return is the goal; however, they are stable investments to a home. For instance, an added public living space on a home can expect to return 65% upon resale. A master suite addition, the type so often seen on the television shows that follow the home "flippers," will also return 65%.
An easier addition might be a deck or patio. By adding a treated wooden deck to the home it will receive 81% of the investment in additional closing prices. Clearly, this is the better investment-less headache, less permits, and less loss.
More Info
Values and returns depend upon location, and different parts of the country can see lesser values or greater values in resale. A strong resource for renovation return values can be found at www.costvsvalue.com where an updated study of the values based on geographical region can be found.
Comments
March 3, 2010
0

found this helpful
I would always check with a local realtor (I'm not one, but they do know the market) to figure out what is needed in each neighborhood. I'm a big fan of good painting, adding warm colors instead of the builder white, and things like cabinet hardware, nice artwork (that you can take with you), etc.