Disclosure: I have just done this on my car window in the garage but I have not yet road tested it.
So anyway, I have seen motorists with all sorts of literally garbage duct taped over a broken vehicle window (although usually it's a back one!). This stuff looks crappy and is also usually difficult or impossible to see through.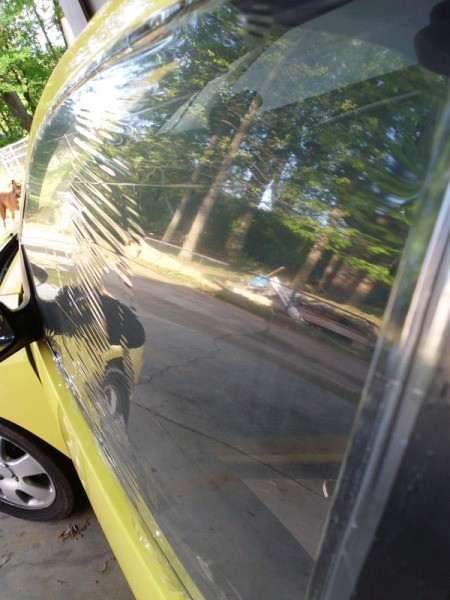 Many times, I've wondered why nobody uses draft stopping shrink film kits made for houses to also cover a car window? The small kits at Lowe's only cost about $3.00 each. (film and roll of double stick tape). So finally I've been forced to "try" my own advice on my own little yellow car! It looks nice so far but, like I said, it has not been road tested at 35 MPH (city speeds) yet! I'll get back here after that phase has been done.
Update:
Since last writing, I have driven briefly on highway at 55 mph and on local city streets at 35 mph all over about 2 weeks. The film stayed on perfectly, kept the heat in the car and the cold out (still chilly weather). The noise though was the same or worse than having an open window! At speeds of more than 10 mph, aerodynamics causes the film to vibrate rapidly. However, I discovered a partial solution to this which is to turn on your vehicle's passenger compartment fan thus pumping air into car! When car is filling up like a balloon, it pushes out the film and reduces much of the noise. Maybe same principle as "pressurizing" the cabin of an airplane? :)
I was enjoying seeing how long the film would last too much so I finally made myself get the window motor repaired before a week of storms!