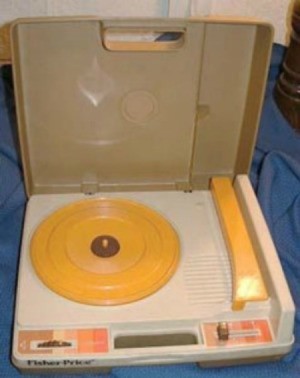 I found one of the old Fisher Price Record Players (see picture) at a yardsale and bought it (hard to find those nowadays!) Anyway, I plugged it in and tried it with one of my old children's records and when you put the needle on the record, it just sits there, it won't get in the "groove" like it's supposed to and play the record, it will either just sit there or slide right off, I thought I could hear some sound in the speaker but it's distorted and low - even with the volume at max. Anyway, my question is: do you think it's the needle that's bad or something else? What should I do with it? (I don't want to throw it out if I don't have to.) Thank you!
Stacey from Orem, UT
Answers
August 16, 2007
0

found this helpful
You need a new needle. Google record player needles. They are still available and so worth it! I just love my record player and so enjoy playing my old records!
By texasdarling (Guest Post)
August 16, 2007
0

found this helpful
We use to tape pennies on top of it to weigh the needle down. A new needle is the way to go though.
By Milenda (Guest Post)
August 16, 2007
0

found this helpful
I have one too! My son had a blast when he found it the other day and put on a Star Wars instrumental record I still had. He thought he was in the fast track listening to it. ;p
Mine was the same when I bought it and yes it was the needle that needed replacing. I found a new one at Radio Shack. You can look in the yellow pages under record to see if there are any repair places near you that may have needles as well.
By marcus (Guest Post)
June 4, 2008
0

found this helpful
astatic 81tx needles
By Randy. (Guest Post)
November 4, 2008
0

found this helpful
Seeking guidance on where to find a driver for the security screws on the bottom of the unit.
By sandy (Guest Post)
December 29, 2008
0

found this helpful
Don't throw it away, because at least you can find a repair shop and get it fixed for around 50.00. This may be cheaper than buying it in working condition.
Starting with the needle is the best place to start but it also could be the cartridge with holds the needle that needs to be replaced. These run about 30-40 dollars. Thus the need of a repair person too. Good luck!
January 1, 2017
0

found this helpful
I have the same model. mine plays but the speed is "off" (too slow) even when it's on the right setting. Any ideas how to troubleshoot this issue?
Answer

this Question

...