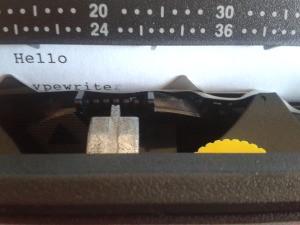 I have an electric Smith Corona SL575 which is in working condition and the only problem with it is when I correct a letter. The correction ribbon will erase the letter, but then it seems to jam/get caught on the right hand side of the carrier, and gets in the way of the cassette ribbon typing any more characters. I tried replacing the correction ribbon, but it didn't solve the problem as the ribbon still doesn't seem to advance properly. I've also got the manual for this model and I'm sure I inserted both ribbons correctly.
Yesterday I noticed what looked like a small component lying right at the bottom of the typewriter, and I managed to get it out when the machine was off. I'm guessing that this may have fallen off, and if it's part of the ribbon mechanism, that could be why it's not lifting properly. I've done a bit of research on typewriter components, but I'm not sure what this part might be, but I thought if it fell off easily, then I might be able to reinsert it.
I also looked inside the typewriter, at the blue part (which I think is called the guide) on the right hand side of the carrier mechanism, and I noticed that the part which seems to grip the little "notch" wasn't in place. I put it back in, but after that the correction ribbon didn't lift at all. I'm guessing the problem may be with the ribbon lift motor or the hammer, but I want to try and fix it myself if possible, as I know that parts are no longer available for this machine and if I shipped it to try and get it fixed, it might not be worth the shipping costs in the long term, especially if it can't be repaired.
Anyone know what might be causing the problem? (And thanks for taking the time to read this very long post!)
Thanks!