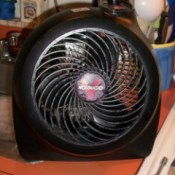 I recently bought a heater from a Goodwill "As Is" store, and brought it home only to find plugging it in set off the smoke alarm. Not good.
So, with a socket set, tiny Phillips screwdriver, and some hot soapy water, I saved the heater for a winter of efficient use.
Please don't be insulted, but unplug the unit first before you do anything. I admit to starting to cut the cord off a lamp that had a short in it and almost didn't notice in time that it was plugged in.
You have to sometimes be creative in finding the screws or nuts that keep them together, but when you do simply take them out and put them in a safe place.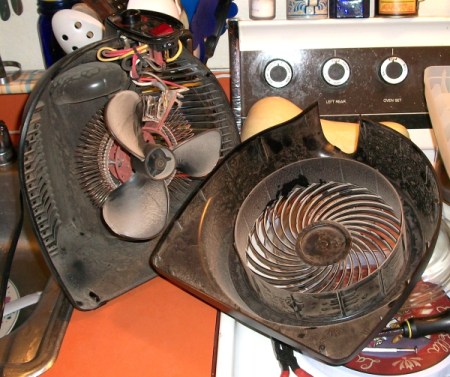 Once the heater is "apart", you can often take off the fan like you do a stove knob, simply pull. I was not so lucky with this one. However, because it spun, I was able to get the socket driver to the two nuts that held the heater coils in place.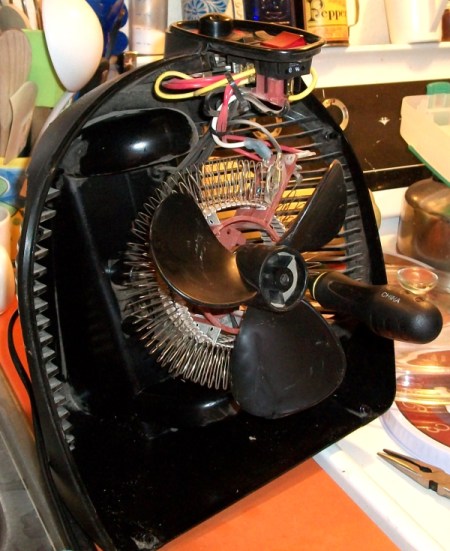 I wiped everything inside with a moist towelette or two, keeping it clean but dry. The front place was just plastic so I washed it like I would a dish.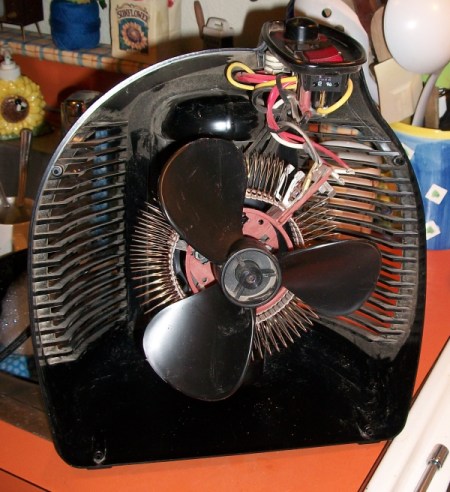 Two nuts, six screws, and about 10 minutes later, I had a working and safe heater for the winter nights ahead.
Total cost, $1.50 and a little time.
If you find a heater that doesn't work, unplug it and clean it. Just like fans at the beginning of the summer, their "innards" often get yucky over the long hiatus between seasons, and that dust can cause a lot of problems.
I hope this helps.
Warning: DO NOT run heater for at least 8 HOURS to allow any moisture to dry.
By Sandi/Poor But Proud from Salem, OR
Comments
October 17, 2011
0

found this helpful
I do this every year with all my heaters and all my fans.
An easy way to make sure it's unplugged before you start? I take mine into the kitchen and do them on the dining table. That way they are far enough away from where they were plugged into that I HAVE to unplug it to get it there. Plus it puts it at a good height to work on it too.
Another thing, I'd wait no less than 24-48 hours before plugging them back in again. Might be over-kill but I'd rather be safe than sorry. I always wait 48 hours on mine.
I've had fans and heaters that my husband was determined were no good and insisted on tossing out. But after I had cleaned it and it was running again, he thought I had bought a new one!
October 17, 2011
0

found this helpful
You got a great deal! I bought the same exact one years ago for $85.00 and it really can keep a room nice and toasty if you close the door. My only complaint is last winter I used it more then I meant too out in our Den and was not finacially prepared for the power bill. So with winter approaching I'll set it on auto and not let it run all night after I fall asleep in front of the TV.
I also used it as a fan during the summer and it worked well. I have three dogs and the outside doesn't get hot so if it gets knocked over, it won't start a fire.
October 17, 2011
0

found this helpful
I think this is a great tip to save something & get such a good deal. I do have one reservation though. A lot of electrical appliances (especially heaters) have been recalled because they short out or over-heat & cause fires.
I would suggest that before you use something like this that you bought at a thrift store or yard sale, do a quick internet search for that model # to be sure there were no problems or recalls for it.
Otherwise, that brand is expensive, you got a really great deal for just a little elbow grease!
October 18, 2011
0

found this helpful
Checking for recalls is a great tip, thanks. I actually never thought of it. I just assumed that anyone with a recalled item would either turn it in or cut the cord off and toss it.
But then, you know what they say about assuming? Thanks for watching out for us all.
Sandi/PBP
Read More Comments