I left my fan on high speed next to an open window. I left for work in the evening. Some time during the night my (frayed just enough) curtain slid down and behind the fan. Several strands of thread are wrapped around the shaft.
The blades still spin freely by hand, but there is no sound from the motor. Anything that I can do? Short of buying new?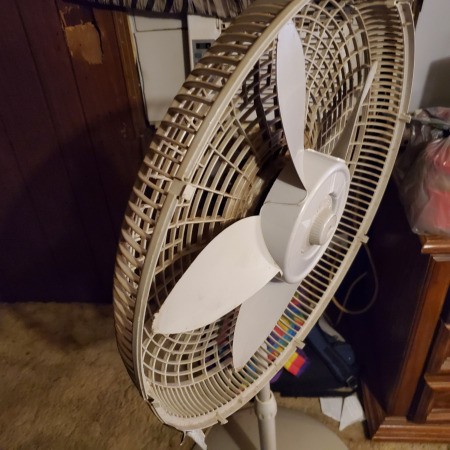 Answers

Ana
Bronze Post Medal for All Time! 140 Posts
September 30, 2019
0

found this helpful
You will have to remove the yarn or string for this to work properly , this will help the function and the air

Judy
Gold Post Medal for All Time! 677 Posts
September 30, 2019
0

found this helpful
The motor may be burned out. Remove all the strings and try to run it. If it doesnt work, you will have to get another one.

poehere
Bronze Post Medal for All Time! 105 Posts
October 28, 2019
0

found this helpful
If your motor is not burned up you can take it apart and remove all the string from inside the motor and put it back together. If this does not work then you'll need to buy a new one.

Pghgirl40
Bronze Feedback Medal for All Time! 196 Feedbacks
October 28, 2019
0

found this helpful
Here are some general YouTube videos for repairing a pedestal fan:
www.youtube.com/results?search_query=repair+pedestal...
If the motor didn't burn up (so grateful you did not have a fire if this happened) you may be able to fix it.
If the motor burned out, I would get a new (or new to you) one.
Post back how it goes.
Answer

this Question

My oscillating standup fan is acting funny. When I put it on it takes awhile before it starts. I thought it was done for, but it still works. I wonder what I can do for this. Is it broken? Anyone have this issue? Thanks.
By sarah
Answers

August 31, 2010
0

found this helpful
Have you tried cleaning the fan. A little oil may be needed at the fan blades to make it turn more freely when you turn it on.
August 31, 2010
0

found this helpful
If it is the type of fan that always started gently and slowly, and not with a sudden start like a pump, then it just needs cleaning and lubricating. You may have to remove the decorative outer cover to see the oil holes in the bearing holder. Use WD40 first to flush out dirt and hardened lubricant, and run it for a while. Then follow up with sewing machine oil.
If it is the type of fan that normally starts at full speed and makes a barely audible click when it reaches near full speed, then you better let a professional work on it. It will need to have the speed sensing start-switch cleaned and/or replaced and quite possibly the start capacitor as well. While that is simple, easy and quick for a professional, an amateur would not have access to the required parts.
Have FUN!
DearWebby
webby.com/.../blog

Pixiedust7
Gold Feedback Medal for All Time! 679 Feedbacks
September 3, 2010
0

found this helpful
With the fan unplugged, remove the grill, and put a drop or two of 3-in-1 oil on the fan shaft and let it run inward toward the motor. Give the blades a spin manually and clean off any dust and gunk on the blades and motor housing.
Wash the grill while it's off. Put the grill back on the fan, and plug the fan in and start it. This usually works for me. I've kept several fans going for 25 years or more with this simple maintenance.
Answer

this Question

I walked into the bedroom and my oscillating fan turned on by itself when it was totally in the off position, turned back off by itself, and then turned back on. I unplugged the fan and puzzled as why the fan did this. Could it be a problem with the outlet or a power surge?
By AM
Answers

August 29, 2013
0

found this helpful
It is possible that your remote for the fan is hidden and is touching something around it. Check when it turns on or off. You may be sitting on it.

March 24, 2020
0

found this helpful
This just happened to me. I fell asleep after turning mine off and when I woke up just now it was on. I dont remember waking up to turn it back on (which means I was dead asleep) and no one can enter my room. It's not remote operated, you've got to turn a knob in order to set it/turn it on and off
I probably sound crazy, but I know I took it off, it was way to cold and I always remember turning it back on
Answer

this Question
My fan stopped working a while back. After the cold, it started back working. Then it wouldn't turn, then my fix-it daughter sprayed WD 40 on or in it. It smelled like it was burning and stopped working. Did she make the motor burn out?
By Cynthia
Answers

Louise B.
Silver Feedback Medal for All Time! 337 Feedbacks
May 19, 2014
0

found this helpful
I certainly couldn't say for sure, but since the thing wasn't working properly in the first place, it is not likely your daughter's fault. I think it was worn out. WD-40 doesn't harm things, in my experience.
Answer

this Question