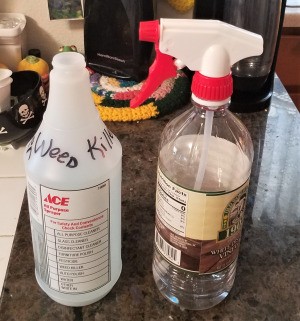 I wanted to try a weed killer recipe and needed a spray bottle. But the dollar tree's were too small. So I bought the vinegar I needed and got a bottle at my local hardware store.
It was reasonable and just the right size, so I made my mix and tried it out on some weeds. It works good! But I was about to toss the vinegar bottle in recycling when it hit me that maybe the nozzle would fit on it and it did!
Now I get I had to buy the bottle first before I could figure this out. But if you have other nozzles and other bottles, you can do this too. So as a bonus, I am including the recipe and and photos of how it did.
In your bottle of choice, layer the bottom with 1/4 inch of salt. Fill it with the full bottle of vinegar and top it off with 8-10 drops of dish washing liquid. I used Dawn but I think any will do.
Shake well and spray on the leaves of the weeds.
N-JOY!