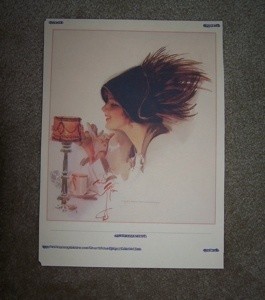 While purging some old files here at home, I found I was getting quite a pile of empty folders. I figured that there had to be something I could do with these besides tossing them in the recycling. The tab portions were bent but the other portions looked pretty good. I decided to try and see if it would go through my printer safely.
Being a lover of Victorian type prints, I decided this is what I would do my "test" on. I found this print and others online that were quite pricey. So I made my own to decorate in my home. See picture. The thickness of the file makes it very sturdy.
Cut the file folders into two pieces along the file bend line. This picture is printed on the largest piece of the folder. I did have to cut a small portion of this folder side so that it would feed into my printer. I absolutely love the "vintage" look it gives to the print.
The shorter side can be used as well. You can actually get two 5x7 pieces out of that side for smaller pictures. I have also folded the recycled portion in half and made "card stock" and done some personalized note cards for myself as well. The part of the folder which is used to extend the amount of paper in the folder is also recycled to cut to size for tabbed notebook or recipe dividers. The possibilities are endless.
PLEASE NOTE: I have used these prints ONLY in my home and not attempting to make any profit on them.
Source: Me: Trying to use things around the house for another purpose.
By Lee from Jesup, GA
Many offices throw away old manila folders that are still in good shape. I take them home and create my own business cards using templates from Microsoft. After creating the template for my business card, I just print and cut out the amount needed. Then I just give them away as needed. You can also make some for your friends and family and make some extra money by printing them on free paper and setting up a personalized template for them. They also make great gifts. Get creative and have fun.
By Kathy Bourg
I reuse manila folders that I no longer need by trimming the sides and turning them into 8 1/2x11 inch sheets. They can then be printed into business cards (2 1/2x3 inches).
Each sheet will make 8 cards. The weight of the manila folder is perfect for business cards and other uses that require card stock. A good paper cutter is very helpful.
By emwhite45 from San Francisco, CA