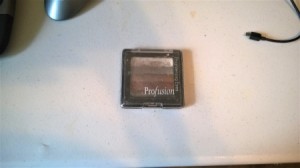 I just got some new eye shadow from a store and knew the old was well, old. And it was fall colors so I decided to just toss it. But then I thought "I bet that little case comes out". It didn't, but once I got the makeup out, there was a nice little compartment for all sorts of things.
The things I found that fit are: paper, Tums, matches, 8 quarters, and bandages.
Things that could also fit are: Mini sewing kits, stamps, folded up money, paperclips, some thinner batteries, and other things that are flat.
N-JOY!