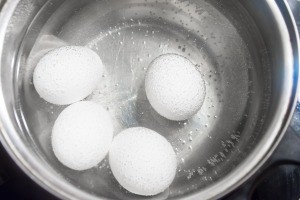 Is it safe to drink the water that you have boiled eggs in? If not, why not?
By Barbara from Cape Town

Answers

March 7, 2011
3

found this helpful
Best Answer
I cannot imagine that it is unsafe, any bacteria should have been killed, and I don't think there is anything in the shells of untreated eggs that could be rendered out and unhealthy; just not tasty. I always add salt or vinegar to the water, so that would make it no good to drink, but if you use plain water, I suspect it is fine. Probably has a good dose of calcium in it.

Lilac
Silver Feedback Medal for All Time! 450 Feedbacks
March 8, 2011
2

found this helpful
Best Answer
The only thing would be this, there are chemicals and other things in water. When the water is boiled the chemicals become concentrated and might not be healthy.
I am curious as to why you would want to drink it. If you just don't want to waste it, water your house plants with it.

March 21, 2012
8

found this helpful
Best Answer
It absolutely is safe to drink the water.
The water will be very high in calcium which is not only great for us, but plants as well. Personally I'm fairly shocked and amused by the comments left here, chemicals in the water being unsafe after boiling it?
If this is gross consider this, food producers will add ground up egg shellsin to food to boost the calcium content, they just need to label it as calcium!
Eggs shells are mostly calcium and personally I find it more gross and disturbing that people waste resources like this and are perfectly fine with not knowing what they are actually eating or better yet paying for a calcium supplement.
Adding vinegar or salt to water will soften the shell, if you don't mind drinking vinegar it is very beneficial to cleansing the body, apple cider vinegar is tasty and nutritious. If you do use a lot of salt, more than a couple teaspoons, I wouldn't recommend it. And do not use on plants if you use vinegar or salt.

November 6, 2018
0

found this helpful
Best Answer
It is good to use as a base for gravies and soups - it adds depth of flavor and calcium at the same time as does water used for poaching eggs.
Answer

this Question

Would there be benefits to washing my face with water I used for boiling eggs?
Answers

poehere
Bronze Post Medal for All Time! 105 Posts
December 16, 2019
0

found this helpful
Best Answer
In truth there are no real benefits to using this water. It won't harm your skin if you decide to do this. If you do not have hot water in your home and need to use a propane tank to heat the water, I can see using this water to wash your face with it.

Pghgirl40
Bronze Feedback Medal for All Time! 196 Feedbacks
December 17, 2019
0

found this helpful
Best Answer
Interesting idea. I have only ever read of this being beneficial to plants, never people. I don't eat eggs anymore, but when I did, I used the water (after it cooled) to water my plants all the time. I still use the water from steaming veggies for the plants.
Boiled water does rid it of some impurities (we have boil water alerts all the time it seems lately for some containment or another in our water) so if you have acne or open sores on your skin, boiling the water may help that way (be sure to let it cool completely).
It could not hurt to try using the egg water. If you see you are getting a reaction stop immediately--you may not be allergic to eggs when eating them, for example, but you could still have an allergy to what is in the shell.
Post back how it works!
Answer

this Question