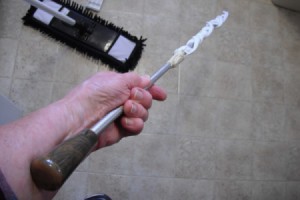 Every time I cleaned out a certain closet, I ran across this 3 foot aluminum rod with a plastic tip that has a slit in it. I would ask my husband why it was in the closet and what is it. He said it was a shotgun cleaning rod so I put it back in the closet and it was not moved for another year or so until I cleaned the closet again. Now I have put it to good use.
I cut the bottom of his old T-shirts off and use them for dust rags. I cut a strip off one of the rags and threaded it through the end of the rod and wove it around the rod and secured the end with masking tape.
I have been using it for cleaning behind furniture that I can't move and for getting the dust, food, and everything else out that has rolled under the refrigerator, stove, washer, and dryer. The rod is 3 feet long and comes in really handy.
When I'm finished, I take the vacuum cleaner and suck the dust off the fabric and put it back in the broom closet where it belongs. I love this new cleaning tool of mine.