Creative Cleaning Tools
Solutions
Share on ThriftyFunThis page contains the following solutions. Have something to add? Please share your solution!
June 15, 2009
11

found this helpful
I keep outdated credit cards or other laminated cards at my kitchen sink. Whenever I have something which sticks on the bottom of the Teflon pan and does not come off easily, I use the old laminated card. It does not scratch the Teflon and in most cases cleans the pan like a charm.
By Bellevillelady from Belleville, Ontario, Canada
Is your bathroom or kitchen sink mounted really close to the rear of your counter? Both my sinks are, and cleaning the gunk out of the tight spots behind the sinks drove me crazy before I thought of this idea. Use a child's paintbrush!
Apply whatever cleaning product you use to the brush, or just spray the area, and use the paintbrush to get into those tight fitting places. Rinse the gunk out of the brush and repeat as often as necessary. Such a simple solution after years of frustration trying to get paper towels or sponges behind there.
By ann from Northern Ontario
June 16, 2010
3

found this helpful
Since I blow my hair dry in the bathroom after every shower my floor becomes disgusting in a short time. I used to hate getting on my hands and knees to clean behind the toilet and my pedestal sink. Recently, I realized my telescoping cobweb catcher does an excellent job of dusting behind those fixtures without the drudgery of kneeling. I then can use my Swiffer to finish the job. It is now a two minute job and I don't dread cleaning nearly as much!
By Susan from Elkhart, IN
This is a cleaning tip with funny story! I was preparing to wax my floor the "old fashioned way" as my mom always did, on my hands and knees, when I remembered a pair of plush slippers that my daughter just threw out due to a crack along the bottom of them. Since I didn't have the waxing mop that this product called for, I just slipped my hand into the slipper and turned it upside down on my hand and used the top portion of her slippers!
I really felt like a genius until I slipped out of my new slippers into shoes to get the mail and upon my return, accidentally grabbed and used my new slippers to finish the waxing job!
Guess I need to change my name from AHA to HAHA! Keep Smiling!
Source: This could ONLY come from MY MIND! ;)
By AHA! from Sterling, PA
May 3, 2005
0

found this helpful
Used nylons work well for cleaning tubs and sinks that scratch easily. Just use an old pair of a nylons or panty hose and a mild abrasive like baking soda. Read more..
Read More...
I use sponges cut into squares to clean the fan, wire racks, etc. I also use them for cleaning the heating vents.
I cut the sponge with scissors into squares, cutting most of the way through the sponge.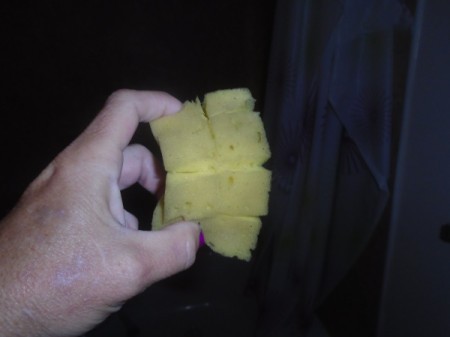 Every time I cleaned out a certain closet, I ran across this and I would ask my husband why it was in the closet and what is it. He said it was a shotgun cleaning rod so I put it back in the closet and it was not moved for another year or so until I cleaned the closet again.
Now I have put it to good use.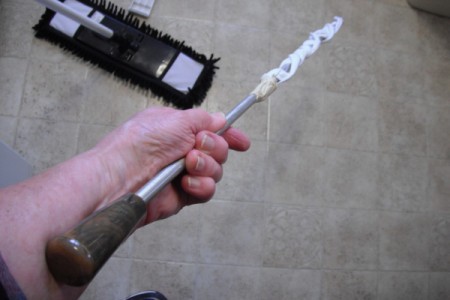 Read More...
January 24, 2002
1

found this helpful
The following "tools" I keep at or near my sink and use regularly: toothbrush (old) - for extra scrubbing in hard to reach places.

Read More...
I used to use single edge razor blades to scrape burned food off my porcelain enamel stove, but even that scratches. So when I was trying to scrape off some dried sauce, I turned to a thin plastic knife with a serrated edge and it worked without scratching!
Read More...
Archives
ThriftyFun is one of the longest running frugal living communities on the Internet. These are archives of older discussions.
June 15, 2009
0

found this helpful
Put all those credit card offers to good use. I have a place in my kitchen drawer to save the John Doe, or your name here plastic credit cards I get in the mail. I later use them for almost anything. Scraping teflon pans (you pay 2$ for a plastic tool), cleaning and scraping anything nasty, because you can throw it away when you are done. I have used them scrape hardened wax, remove excess foam insulation (the stuff in a can), scrape up built up fabric softener from the washer. The shape makes them perfect for getting into corners and tight spaces, and best of all they are free!
By Diane from Rochester Hills, MI

Answers:
Use Credit Cards for Cleaning
Boy, I get a lot of these and usually just destroy them. This is a great idea to recycle them. (11/10/2008)

By Sharon
Use Credit Cards for Cleaning
I have used these for sometime now. They work well for most cleaning jobs; flour off the counter, cleaning my ceramic stove top. They are better than the ones you buy as they seem to be thinner but sturdy.
(11/10/2008)

By Dolly
Use Credit Cards for Cleaning
I also save the credit cards and have used them for the same purpose. They come in handy when cleaning the tight space between my stove and the counter top. (11/10/2008)

By Marjorie
Use Credit Cards for Cleaning
Pretty cool idea (11/13/2008)

Use Credit Cards for Cleaning
Don't forget to destroy them after using them. (11/17/2008)

By Darla H.