Ripped Rag Curtain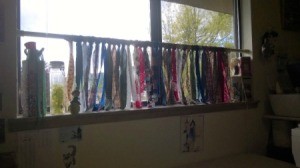 I got tired of not being able to close my blinds during the hottest and brightest parts of the day. So I did this.
Total Time: 2-3 hours
Yield: 1
Source: Google has tons of these ideas. I created my own but these will inspire the best of us.
Supplies:
multiple yd ripped fabric strips
scissors
1 ft stitch witchery
iron and ironing board
1 shower curtain rod
Steps:
When I say multiple yards of fabric, it's because you could make this 18" long like mine, or for the whole height of the window. So, measure how long you want the strips to hang down and then double that for each strip. I ripped mine about 1" wide, but your can do yours narrower but not too narrow. Any less than 3/4" wide and they will curl and perhaps rip.
When you get the strip ready, it's time to iron them. To save space and energy, lay the strip on the other side of the board, lay the iron on the fabric just past the end near you and pull it through under the iron. It irons them fast and you only need the width of the board for room.
When the strips are ironed, lay your rod out where you can work on it flat, and begin folding the strips in half and looping them on with the solid part of the strip showing, if you choose. I prefer that but it's up to you. Hang them up and you are done! NJOY!
I found that I didn't have enough to go all the way across without them looking "sparse" so I put some of the taller things from the old window up there and now it's nice. I could have done more fabric or even some lace but I wanted it to be light without being over done.
Here is what motivated me for this project. I love fabric bombing things with ripped fabric and yarn, so this was something I thought of myself, but wanted to give those credit where credit is due. "https://www.google.com/search?q=ripped+rag+curtains"
Add your voice! Click below to comment. ThriftyFun is powered by your wisdom!
May 20, 2017
1

found this helpful
Top Comment
This is kinda neat - something new to me. My closest thing to using something other than a curtain for a window was using a shower curtain (that I loved!) over a shower rod. it worked really great so I can see using this for certain areas.
Nice job.
Betty
July 14, 2017
0

found this helpful
Thanks. Here is where I got my inspiration. Sit down you might be here a while??
Add your voice! Click below to comment. ThriftyFun is powered by your wisdom!