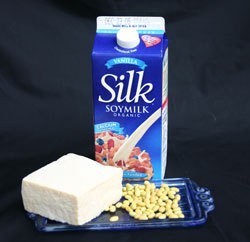 It would come as no surprise if the magic beans planted in the "Jack and the Bean Stalk" fairytale were soybeans. The versatile virtues Mother Nature has bestowed on this one legume are far reaching indeed. From food products to building products, the uses for soybeans seem almost unlimited. If you're looking for a new garden crop that is easy to grow and offers a high nutritional rate of return, consider planting some "magic" beans in next year's garden.
Not Your Average Bean
Imagine this: A tractor with parts made from soybeans, running on fuel made from soybeans, spraying a pesticide made from soybeans on a field of growing soybeans! It sounds futuristic, but it's already a reality. Hundreds of the non-food products we use every day are made from soy and soy bi-products. Here are just a few examples: livestock and fish food, ink, plastics, textiles, building materials, machinery parts, paints, fuels, shampoos and soaps, cosmetics, glues, oils, crayons, candles and even vodka.
The Complete Culinary Package
Most of us are familiar with many of the food products made from soy: tofu, tempeh, soy sauce, soymilk, miso, etc. Native to Africa, Asia and Australia, 40% of the world's soybeans are now grown in the United States. Soybeans are a good source of fiber and calcium and make an ideal meat substitute because of their high protein content. In fact, soybeans are the only plant protein that contains all of the essential amino acids. In the past several years, the positive and negative health effects of soy isoflavins have been widely debated in the media. While most experts disagree on the benefits of adding large amounts of soy into our diets, they agree that most of our diets could benefit from the addition of a little soy.
Easy to Grow
Edible soybeans are easy to plant and grow like any other bush bean. Garden varieties are usually larger than field varieties and vary significantly in height and growing times depending on the variety. Care should be taken to find organic seeds from local companies or producers since many commercially available seeds are genetically modified. Field varieties may also be used but should be harvested before fully maturing for best eating.
Soybeans prefer full sun, warm weather and nitrogen-rich soil. Plant seeds after the last frost (May 15-June 15) in warm soil with a pH from 6.0-7.0. Mix in a little manure or compost when planting and water thoroughly. Seeds should be spaced 2 inches apart in rows 20-24 inches apart. You'll need a medium to large amount of space in the garden to produce a large enough yield for uses like soymilk or tofu. One pound of soybeans will makes about 8 quarts of milk.
Germination time will be a quick 6-14 days, but soybeans grow to maturity more slowly than other beans. The length of time to harvest depends on the variety and will range anywhere from 60 to 100 days. For this reason, early varieties are best suited to Northern states. Like most crops, soybeans should be rotated 3 out of every 4 years. Common soybean pests include beetles and rabbits, who appreciate their tender leaves.
Seeds are ready when they are fully enlarged in the pod, but before they become hardened. Flowering plants are a signal that harvesting isn't too far off. Pods will be uniformly plump, green, rough and hairy. The beans are generally hard to remove from the pods. To shell them easily, boil them in water for 4-6 minutes. After the pods cool, the beans should squeeze out easily. Make sure you return the nutrient-rich pods to the compost pile.
How to Use the Beans
After shelling, soybeans can be frozen, canned or cooked and eaten fresh. Use them in any recipe calling for beans. They also make great toppers for salads when cooked and served cold. They have a mild, neutral flavor and will easily pick up the flavor of other seasonings. There are a number of great cookbooks dedicated solely to cooking with soybeans and soy products, including recipes for roasting soybeans, baking soybeans and recipes for making your own tofu, miso and soy milk.