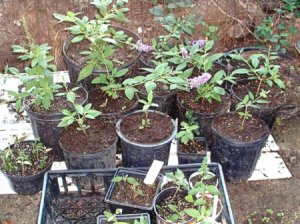 Here, I will give my opinion on the use of honey as a rooting agent. An opinion is the best I can do as I have never used honey for rooting purposes. As I am very successful at rooting plant cuttings, I see no need to start using honey, now.
Honey does have antibacterial properties. It is possible that honey has the ability to kill certain pathogens responsible for damping off during the rooting process.
Even if this is true, honey's antibacterial properties do not stop there. The antibacterial agents in honey are non selective. That is to say, they kill good bacteria as well as bad. Most of us know, plants do best in soil rich in beneficial micro organisms.
Not only does honey have the ability to kill bacteria non selectively, it also has the ability to cause a proliferation of some types of bacteria; bacteria which may in fact be detrimental to the rooting process.
To successfully root cuttings, certain requirements must be met. It is my opinion that plants successfully rooted using honey did in fact root well, not because of the use of honey, but because these certain requirements were met. The ag agents I've spoken with say they know of no benefits of using honey as a rooting agent.
Each plant has its own set of requirements. Cactus, for example, are fleshy and hold a lot of moisture. This abundance of moisture causes many cactus rootings to rot during the rooting process. For most cactus, this rotting can be avoided by allowing the severed area to dry and become 'corky' before placing the cutting in a rooting medium.
This does not hold true for woody cuttings such as those taken from the rose. It takes only a brief interruption of moisture uptake to cause the cuttings to be useless for rooting. For this reason, container, rooting medium and anything else needed for successful rooting, should be prepared before cuttings are taken from the parent plant. The cuttings should be inserted into the medium immediately after being collected.
I successfully root hundreds of cuttings a year. I do not use a rooting agent of any type. Most all plant cuttings have the ability to form roots without rooting agents, and will do so if proper conditions are met. On the other hand, these plants will fail to root if these proper conditions are not met, whether you use a rooting agent or not.
There is a place for rooting hormones. A few plants can be very difficult to root and benefit from the use of hormones. In the past, I have rooted many rhododendrons. I was most successful when using the air layer method and dusted the wound with rooting hormones prior to wrapping the wound in dampened sphagnum moss and then plastic.
I urge anyone wanting to root cuttings to familiarize themselves with the needs of any given plant. They do vary. Several plants such as the iris aren't particular. While you can't root a cutting from iris, you can root a rhizome. A small chunk of rhizome severed from the parent rhizome can be thrown on top of the soil and forgotten about. In most cases, it will form roots.
When it comes to plants such as roses, much more attention is required. There must be a balance between the root system and the above ground stem and leaves.
When the cutting is still attached to the parent plant, it receives a constant supply of moisture and nutrients from the plant's root system. Once the cutting is severed from the plant, all supply of moisture is stopped and compensations must be made.
To reduce the need for that moisture the cutting can no longer get from a root system, most all leaves are stripped from the cutting prior to insertion into a medium. Additionally, that moisture inside the cutting can quickly be lost to the atmosphere as there is no replacement moisture coming from a root system. This is why most rootings are attempted in a close atmosphere such as a greenhouse. Individual plants can be given a close atmosphere by covering them with a plastic bag or dome.
While most plant cuttings require a humid atmosphere, that portion under the soil should be only damp, never wet. Wet rooting medium is probably the major reason for cutting failure
Iris rhizomes can form roots while laying on top of hard, dry, red clay. Many orchids can form new roots without any medium at all, providing the atmosphere is humid enough. Somewhere in between is the best medium for most plants
In the past, most propagating was done in a medium of sharp, clean river sand. Now, mediums are usually man made and much lighter. Some are used for their ability to retain moisture while others are used for their ability to shed moisture, again, depending on the cutting's requirements. Good reasons to familiarize yourself with the requirements of a particular plant you want to propagate.
You can purchase rooting mediums or make your own. Soiless mixes do well as mediums as they are high in vermiculite and perlite and often have a base of humus or milled sphagnum. If in doubt as to whether the medium contains pathogens harmful to the cuttings, it's best to heat treat the medium before using.
Most rootings are successful when performed in bright light, but no direct sun light. In some cases, gentle bottom heat will aid in the formation of roots. Timing is important, too. While some plants can be rooted at any time of the year, most plants root best when cuttings are taken during the time of their most active growth, usually in the months of June and July. And again, probably most important of all is that the rooting medium be kept only moderately damp, never wet.
In summation, if you do everything else right when trying to root a cutting, you most likely won't need a rooting agent. If you do everything else wrong, a rooting agent won't help you, anyway.
Picture shows some of my butterfly bush rootings at various stages.