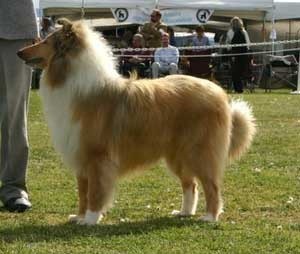 Breed Description:
The Rough Collie is one of the most recognized dog breeds, easily distinguishable by its spectacular full coat. This breed is loyal and responsive and possesses both speed and agility. The long, tapering muzzle and small-tipped ears give this highly intelligent breed an alert expression.
Group: Herding group
Purpose of Breed: Herding sheep
Country of Origin: Great Britain.
Average Size: Dogs range from 24-26 inches and 60-75 pounds. Bitches range from 22-24 inches and 50-65 pounds
Color(s): Typically sable and white, tri-colored, blue merle, sable merle and white.
Coat Type: The Rough Collie's coat consists of a long, straight outer coat with a soft, thick, dense undercoat.
Grooming: The Rough Collies undercoat can shed a lot if kept indoors. The breed's long hair needs regular brushing to keep it clean and free of mats. This breed requires standard care for eyes, ears, pads and nails.
Exercise Needs: Collies do best in homes with fenced yards. This active breed must have daily exercise to stay mentally and physically healthy. This dog breed is not recommended for apartment life since it tends to bark.
Temperament: The Rough Collie is a very intelligent, friendly dog who makes an excellent companion-especially for children-and gets along well with other household pets. This breed's herding heritage makes it naturally suspicious of strangers and a good watchdog.
Common Ailments: Susceptible to eye problems, hip dysplasia and epilepsy.
Life Expectancy: Averages 8-12 years.
Trivia: The Collie experienced a surge of popularity in the 1860s after Queen Victoria took a fancy to them. When the movie Lassie was released in 1943, this already popular breed gained an expanded circle of admirers.
More Information: Collie Club of America, Inc.