Sausage Appetizer Recipes
Solutions
Share on ThriftyFunThis page contains the following solutions. Have something to add? Please share your solution!
A simple to make appetizer.
Take fresh Italian sausage and remove skin (or buy skinless). cook (fry or boil). Split halfway through, add a strip of mozzarella cheese (or pepper jack) and some chopped pepperoncini. Then seal in puff pastry and bake according to package directions (usually 400 degrees F for 15 minutes). Serve with your favorite tomato sauce with a touch of horseradish added for zing!
By Dara from Fairview, OR
This quick and easy recipe make a great appetizer.
Ingredients:
1 lb. sausage
2 1/2 cups Bisquick
1 cup cheddar cheese (grated)
Directions:
Use hands to blend the ingredients well. Form into balls. Bake at 350 degrees F for 20 minutes. You can freeze these before or after cooking.
By Robin from Washington, IA
My kid would like to have cheese pancake and sausages for dinner so I thought of making a little twist on this combination. Here's how I literally twisted it in this recipe.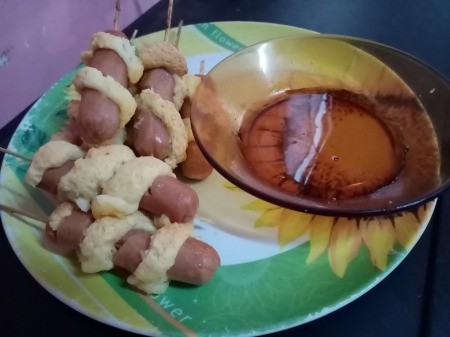 Ingredients:
sausages/hotdogs
pancake mix
grated cheese
water

Steps:
Cut sausages or hotdogs into half.
Put each half in skewers.
Slice sausages (in skewers) with knife from top going down while turning the stick at the same time.
Mix grated cheese and pancake mix.
Pour a very small amount of water into the mixture. Take note that you only put a little amount to create a consistency of a bread dough. Mix everything very well until the dough is formed.
Take a portion of the dough and roll.
Get your sausages and carefully move the slices to create gaps.
Insert the dough into the gaps. See photo.
Bake over 150 C or fry until golden brown. Brush melted butter on sausages if you wish to bake them.
Serve with maple syrup as dipping sauce.
These crispy slices of sausage can be flavored in numerous ways. They are perfect for serving with dip, as a chip alternative.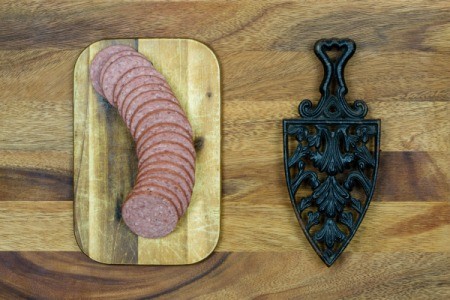 This this page contains baby mummy sausage recipes. Baby Mummy sausages are a fun appetizer for your Halloween party. They are even easy enough for kids to make.